Published 5th November 2021
Avark launch interactive content piece to showcase Bitcoin bulls
If you saw Tom Brady, Paris Hilton and Elon Musk in the same sentence you'd be forgiven for thinking Netflix were about to document the latest A-list celebrity scandal. Actually these famous names along with many others are serial Bitcoin investors.
If you're wondering who else is supportive of the enormous cryptocurrency craze you've come to exactly the right place.
Here at Avark we have created an interactive content piece inspired by the classic board game 'Guess Who'. The idea is to illustrate just how renowned Bitcoin has become by showcasing all the famous faces that have jumped onboard the Bitcoin bandwagon.
Why are so many people investing in Bitcoin?
Put simply, the same reason most people invest in anything, to make money. Those who are bullish on Bitcoin believe the crypto coin still has some way to go before it reaches the moon and consequently they expect the value to continue to soar also.
Whilst others may tell you to await a 'crypto-crash', it is worth considering the untapped potential of cryptocurrency. Yes our Twitter feeds may be clogged up with crypto-inspired memes but how many of us have actually completed a purchase using crypto? How many of us have had to explain to our family and friends just what Bitcoin actually is?
So whilst the biggest of the cryptocurrencies has now been around for over 10 years, it's not unfair to think the ceiling isn't even within touching distance yet.
Guess Who's Next: Who are the biggest investors in Bitcoin?
This is where our brand new creation 'Guess Who's Next' comes into play. To showcase the corporate adoption of Bitcoin from some of the world's most famous faces, we have put them all into a fun, easy to navigate content piece.
The idea of 'Guess Who's Next' is to educate users on the biggest investors in Bitcoin in a fun, meme-friendly format.
Users can move around the board clicking on the famous faces that may be popped up or laying flat to reveal a small fact file about each individual. Those that are already popped up are known Bitcoin investors and supporters of all things crypto.
Those that are laying face down compromise of well-known faces that have been linked to Bitcoin in some way. Note not all of these people have a positive opinion of Bitcoin with some known for expressing their negative view of the crypto world.
Users will find the likes of Tom Brady, Steve Wozniak and Jack Dorsey who have been given the 'laser eye treatment' which is so synonymous with those who are bullish about Bitcoin. It is quite common for Bitcoin supporters to photoshop bright red lasering eyes onto their profile picture so we thought we'd do our bit to keep the trend going.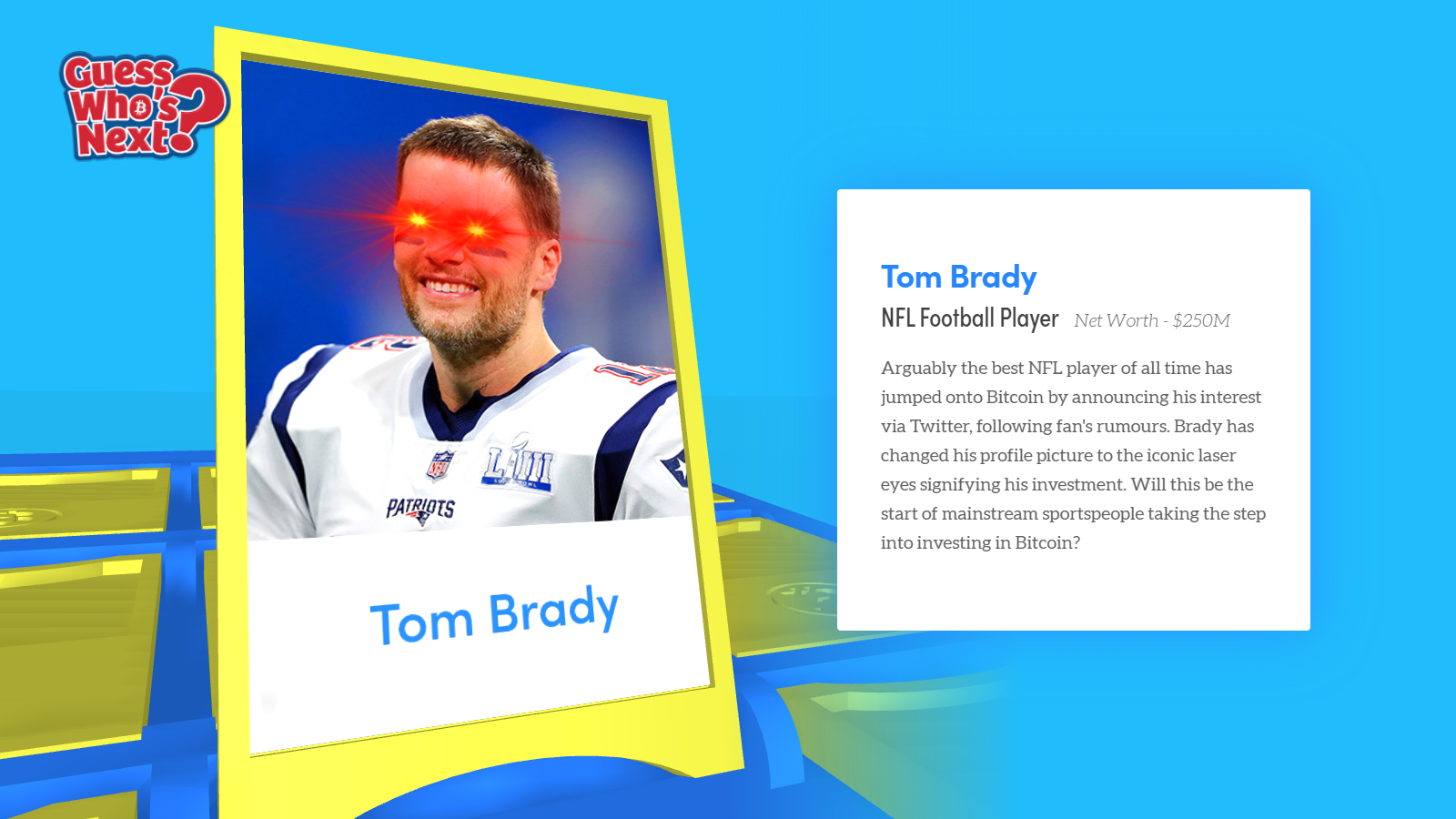 Do you want to cover our piece and help us educate the world about the people backing Bitcoin? Download our press kit that includes graphics ready to use in your article.