Published 7th March 2022
Female AF to Launch Wildcard Women NFT Collection on International Women's Day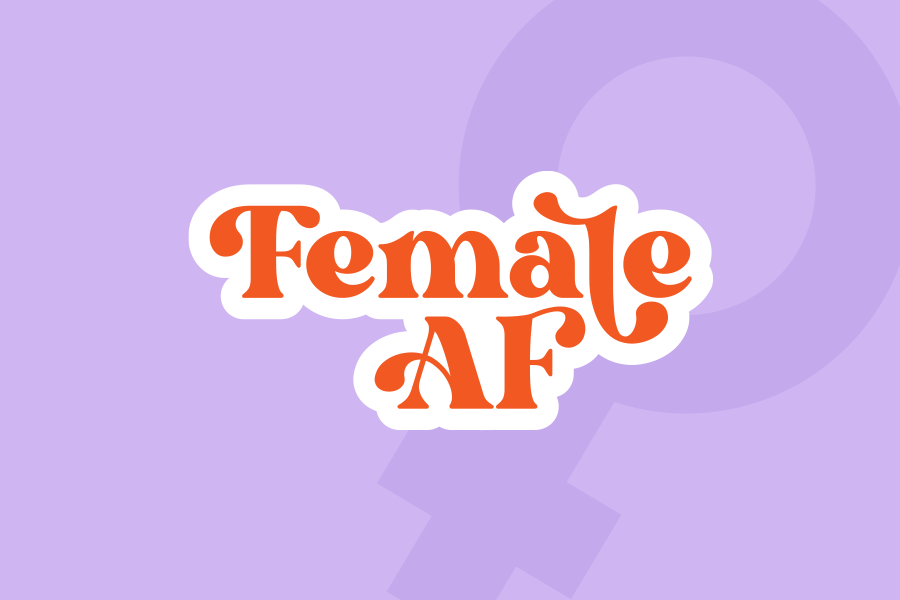 Avark are proud to announce that we will be stepping even further into the world of NFTs! The female half of our team have come together to create their very own female-inspired NFT collection to celebrate International Women's Day. The project will raise funds for not-for-profit organisation, Catalyst.
The Reason
According to the statistics, both the technology industry and the blockchain space are heavily male dominated. Just 19% of tech workers are female and the figure for women working in the blockchain space is even lower at just 12%. 
However, here at Avark, we're extremely proud to be well above the industry averages. With a team of seven extremely talented females, almost half of the Avark team is made up of girl power. And our seven-strong team wanted to celebrate International Women's Day using the crypto and NFT space. 
This has given birth to Avark's inaugural NFT collection, The Female AF Collective. The collection, led totally by our seven Avark ladies, will celebrate the achievements of amazing women that have all left their mark on the world in various ways. 
All proceeds from the project will go to Catalyst, a not-for-profit organisation whose mission is to "accelerate progress for women through workplace inclusion".
The Drop
The Female AF Collective will launch on the 8th March – International Women's Day. The initial drop will consist of seven artworks with seven NFTs available for each.
The inaugural 49-piece drop will be titled "Wildcard Women" and will drop at 9am on OpenSea. (Click here to find our collection)
Wildcard Women will celebrate seven female icons that have each been chosen as an inspiration by a different female member of our team here at Avark.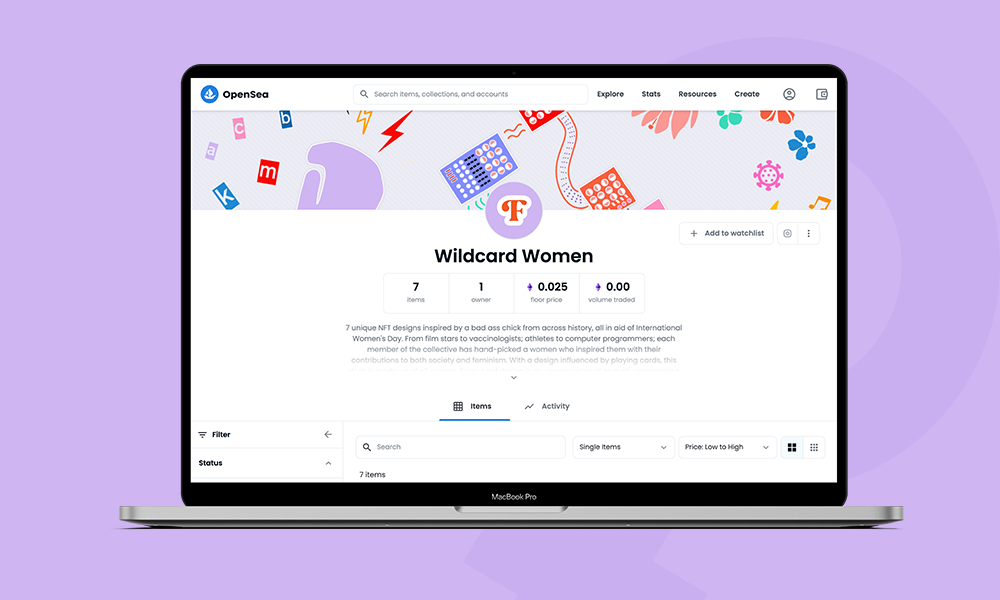 The Art
The Female AF NFTs will all take the form of digital playing cards. 
As a totally in-house project, the NFTs have been designed and created by the female members of our design team here at Avark.
The team wanted the NFTs to not only celebrate the chosen women but more importantly their achievements.
With this in mind, rather than just showcasing faces and names, the Female AF NFTs aim to highlight the ways in which these remarkable women have shaped the world we live in today.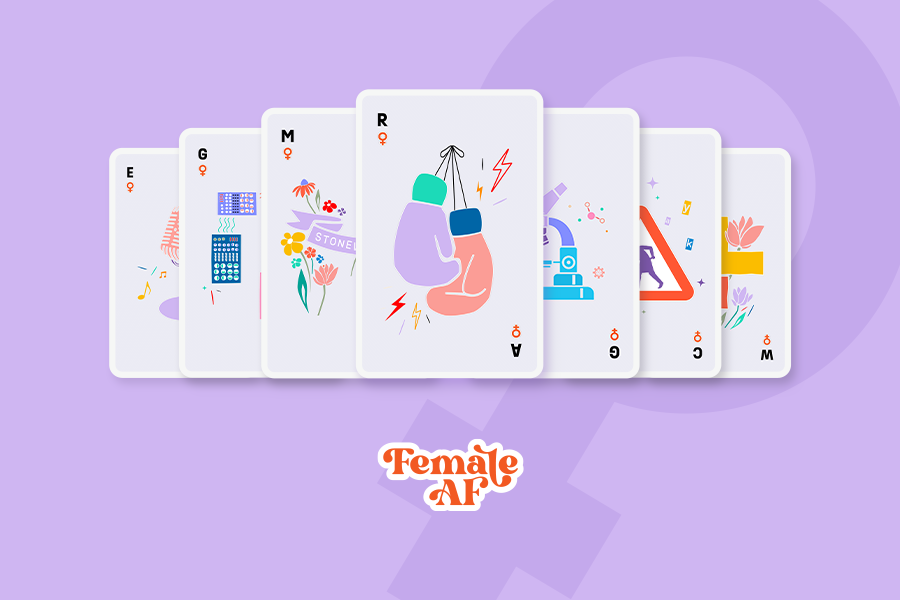 As a result, the collection can ultimately become a positive, inspiring project that celebrates various examples of what women are capable of whilst also raising money for a great cause.
The Women
The first seven women to be celebrated come from a range of different backgrounds and cultures. Furthermore, our seven chosen queens have collectively left their mark on a variety of industries, including sport, science, film, tech and music.
Ramla Ali
Ramla Ali is the first ever female Somali professional boxer and the first Muslim woman to win British national boxing titles. She is also an author and racial equality activist.
Before her sporting success, Ali moved to England as a refugee after her 12-year-old brother was killed in the Somali Civil War.
In 2018, she launched Sisters Club: a boxing club in London that offered a free weekly self-defence class for women and also aimed to create a safe space for Muslim women. 
In 2019, she travelled to the Za'atari refugee camp in Jordan with UNICEF where she taught boxing to young refugee girls who had fled the conflict in Syria.
Sarah Gilbert
Dame Sarah Gilbert is a vaccinologist and professor at the University of Oxford and co-founder of Vaccitech. 
Gilbert has been instrumental in developing some of the most well-known vaccines including the universal flu vaccine in 2011 and an Ebola vaccine in 2014.
More recently, she has become known as the woman who designed the Oxford vaccine. This was after the Oxford-AstraZeneca COVID-19 vaccine she developed with the Oxford Vaccine Group was approved for use in the United Kingdom. 
As of January 2022, more than 2.5 billion doses of the vaccine have been released to more than 170 countries worldwide.
Margaret Calvert
Margaret Calvert is a typographer and graphic designer who is responsible for designing the signs we see on many of the UK's roads and transport systems.
The road signs designed by Calvert were implemented on all British roads in 1965 and are still in use today.
She was also responsible for the Rail Alphabet typeface used by Network Rail starting in the 60s. Recently, Calvert worked with Henrik Kubel to refresh the original typeface and designed Rail Alphabet 2. The updated typeface was lighter than the original whilst also being adapted for more modern needs like phone charging points and gender neutral toilets. 
In 2016, she became Margaret Calvert OBE after being recognised for her services to typography and road safety.
Emma Watson
World famous actress, Emma Watson, rose to fame playing Hermione Granger in the Harry Potter film series. Utilising her global popularity, she became an activist and passionately championed the fight for women's rights. 
In 2014, Watson was appointed the UN Women Goodwill Ambassador and ambassador of the UN's global HeForShe campaign; this encourages men to stand up to bridge the gender equality gap in society. 
In her 2017 role as Belle, in the live action Beauty and the Beast adaptation, Watson excersised her feminism by ensuring that Belle was credited as the inventor herself, rather than her father as is portrayed in the original story.
Grace Hopper
Known as "Amazing Grace", Grace Hopper was a pioneer in the field of computer science.  
She created the first English-like programming language, FLOW-MATIC, which was later extended to create COBOL, an early high-level programming language still in use today. 
Hopper was also instrumental in the creation of the early electronic computer. She wrote the first computer manual, A Manual of Operation for the Automatic Avark Controlled Calculator, which enabled her to share her knowledge and make computing accessible.
On November 22, 2016, her legacy was honoured by President Obama when he posthumously presented her with the Presidential Medal of Freedom, America's highest civilian honour.
Marsha P. Johnson
Marsha P. Johnson (the P standing for pay it no mind) was a transgender woman who has become an icon to the LGBTQ+ community through her trailblazing attempts to increase acceptance of transgender and gay people.
Living through a time where being gay was not just frowned upon but considered a mental illness, Marsha lived through ridicule, harassment and financial struggles as a result of being herself. 
Following the 1969 Stonewall Riots, Marsha founded transgender street activist organisation STAR along with fellow activist Sylvia Rivera.
The purpose of STAR was to provide shelter and food to the LGBTQ+ community that often found themselves living on the streets at this time and subsequently, were vulnerable to homophobic or anti-trans violence. 
Today, Marsha's legacy lives on within the LGBTQ+ community and beyond.
Ella Fitzgerald
Often referred to as the "Queen of Jazz", Ella Fitzgerald was an American jazz singer whose voice has been described as strong, pure and ageless.
After a tough upbringing, which saw Ella tragically lose her mum at 15 during the Great Depression, she went on to sell over 40 million albums in a career that spanned over 50 years.
In 1959, Fitzgerald smashed the glass ceiling and became the first black artist to win a Grammy. She went on to receive 12 more as well as a lifetime achievement award.
Other accolades include receiving a Kennedy Center Honor for lifetime achievement in 1979, the National Medal of Arts in 1987 and the Presidential Medal of Freedom in 1992.
The Future
The seven women that will be celebrated through our first drop will become the first of many NFT cards to be added to our all-queen deck. 
The Female AF Collective will become an ongoing celebration of female achievements from the past and the present.
To keep up to date with the latest news about the drop, follow the project on twitter @Female_AF_NFTs and instagram @female_af_nft