Published 30th September 2022
NFT Tickets: From paper to blockchain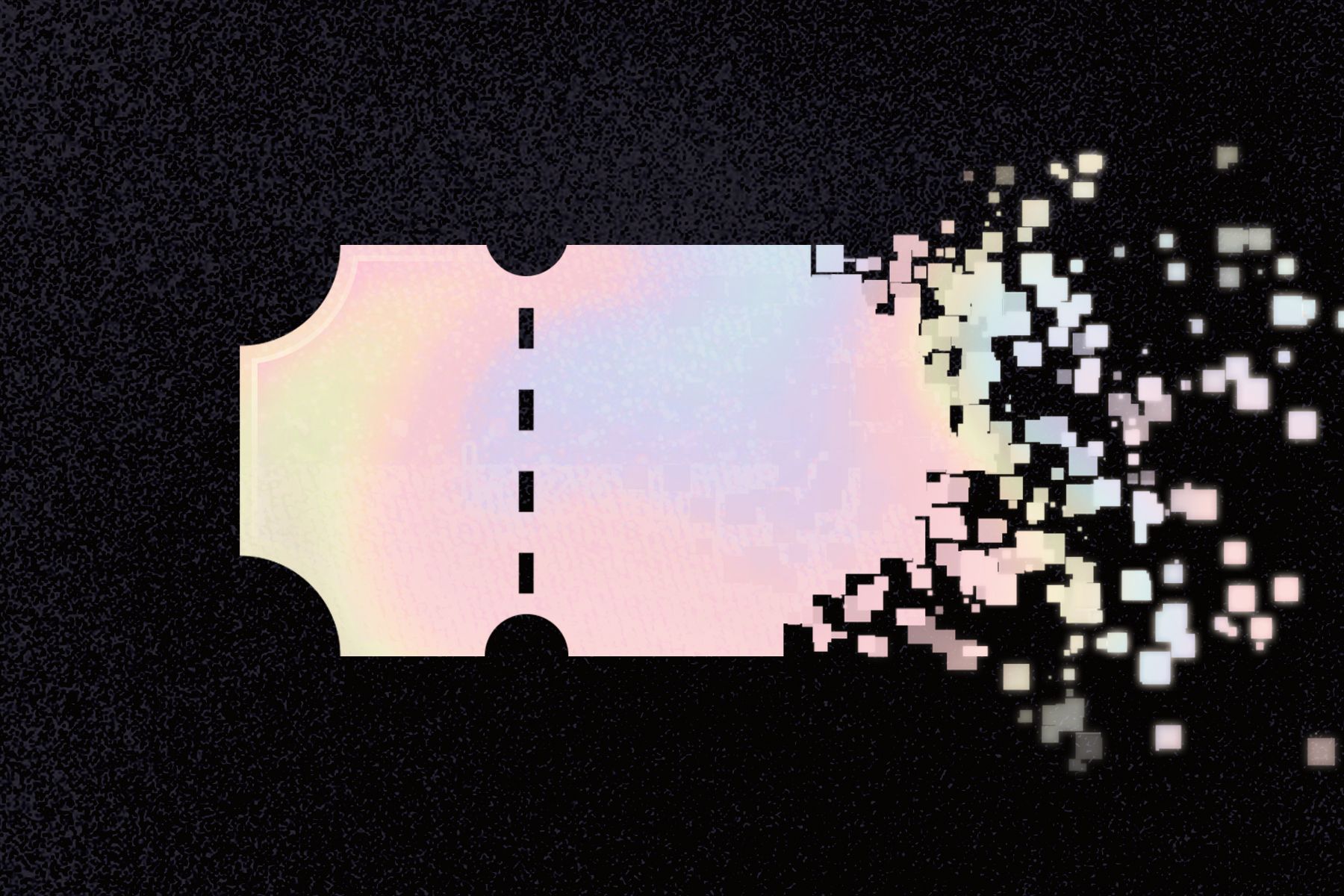 The arrival of what the space is naming NFT 2.0 refers to the emergence of NFTs that have actual utility - NFTs that improve our everyday lives in some way by making something quicker, simpler or safer. Perhaps nothing achieves this better than the recent innovation of NFT tickets.
What are NFT tickets?
NFT tickets are unique, digital assets that live on the blockchain and—just like conventional tickets—they provide access to a place, journey or event.
Whilst they ultimately do the same job as paper tickets and digital QR codes that have recently become more popular, the existence of tickets in the form of NFTs allows buyers and sellers to benefit from the increased security and efficiency of blockchain technology, smart contracts and NFT metadata.
Advantages to sellers
Ownership can be verified
The biggest change that NFTs will make to the ticketing landscape will be the increased transparency around ticket ownership.
Event organisers will no longer have to worry about fake tickets (physical or digital) being used to unlawfully enter an event.
The non-fungible element of NFTs means only 1 of each ticket can exist – that ticket can't be duplicated and the owner of any given ticket can be traced.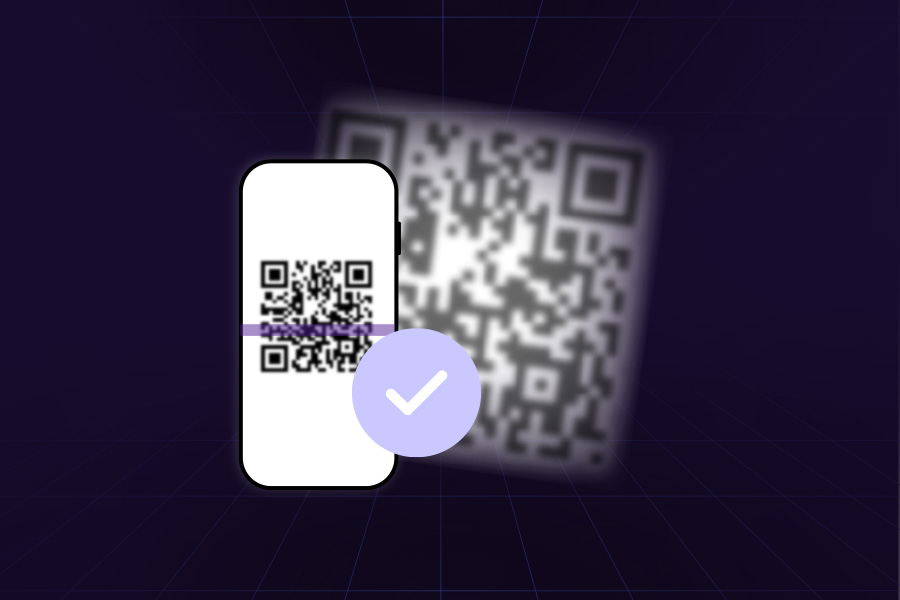 Data collection
In many areas of business, data is king. If organisations can find ways to collect more accurate data, they're usually interested in the idea behind it. And NFTs give event organisers the opportunity to do exactly that.
A switch to NFT tickets will allow companies to see all data relating to a given ticket, including its ownership history and secondary sales data. But perhaps a bigger opportunity is the available data on the ticket holder themselves.
In the case of a music festival, organisers will be able to see who owns a ticket to the upcoming event but also if they have attended previous festivals as they would still have the NFT tickets attached to their wallet address.
Currently, this data would be lost as soon as the ticket changes hands between friends or through an unofficial resale. However, NFTs will allow hosts to keep track of such data to be fed into future marketing strategies by offering more tailored promotions.
Royalties from resales
Inflated prices on the secondary market has long been a problem of the current ticketing system. But what's potentially a bigger problem is the fact that artists and event organisers aren't even the ones receiving the profits from these sales.
Tickets are commonly changing hands on resale sites and over social media with sellers, often touts, taking home the profits.
The use of NFT ticketing and smart contracts will allow original ticket distributors to add a royalty to each ticket sale, ensuring they receive a fair price from any future sales.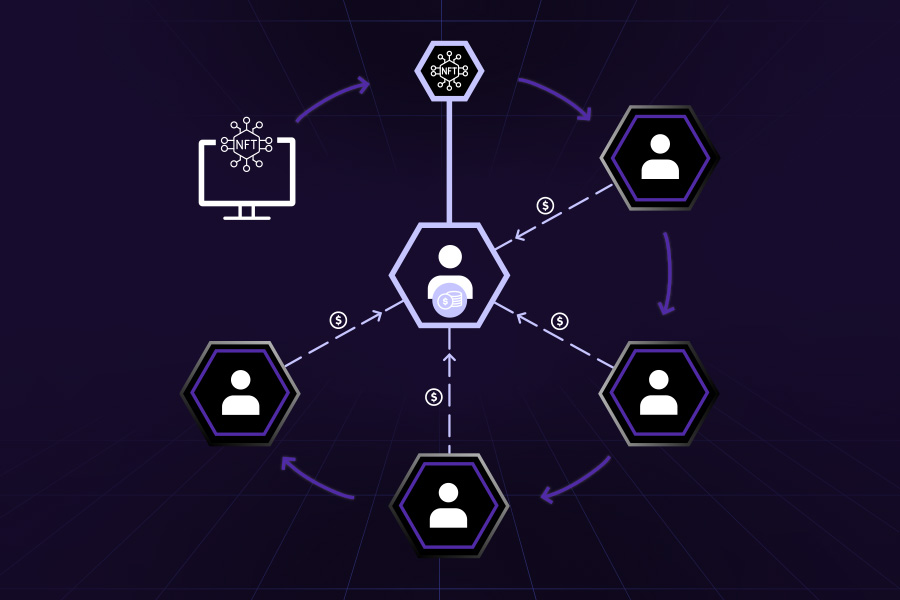 Combining art with ticketing
Tickets have long had a secondary purpose. Stubs from historical games fall more into the category of memorabilia or collectables, with some fetching huge sums years after the event relating to the ticket. For instance, if you attended Michael Jordan's NBA debut, your ticket stub could fetch you almost half a million dollars!
But one of the biggest issues that arises from the switch to digital tickets is the loss of collectibility as tangible tickets have been replaced by mundane QR codes.
NFTs can rectify this too. Their ability to exist as pretty much anything leaves potential for ticket sellers to bring back the element of collectability through art-worked tickets.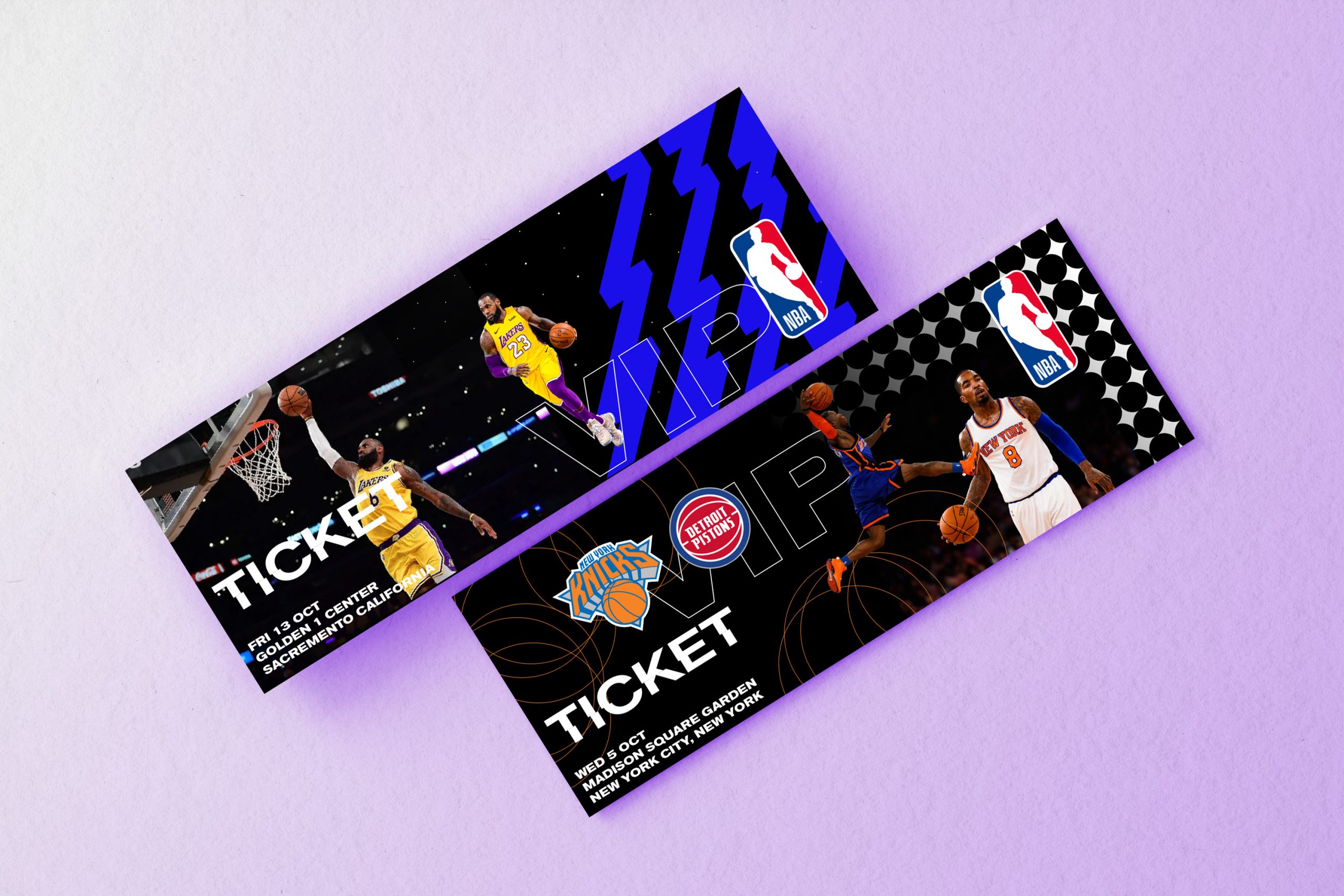 Advantages to buyers
Eliminate ticket scalping
Ticket scalping is when automated bots scoop up tickets on behalf of touts. Only to then resell them for an inflated price on secondary marketplaces.
With NFT tickets, not only will it be harder for bots to acquire tickets in the first place, but a tweak to the smart contract code could actually make it impossible for tickets to be resold over a certain price.
Tickets to the 2022 Champions League final started at £60 yet were being resold for more than £1700. In an attempt to control this, Liverpool cancelled the tickets of fans trying to sell tickets for profit.
In a world of NFT tickets, ticket scalping like this would be much harder, possibly impossible to carry out whilst also being far easier to track for ticket issuers.
Cleaner secondary market
We've all bought tickets for an event only for some minor inconvenience to skew our plans at the last minute. This leaves us with tickets that may be ineligible for resale or the undesirable task of trying to find a buyer for our unwanted tickets. The latter often involves finding a stranger on social media to take them off our hands, leaving ticket sellers vulnerable to scammers and fraudsters.
However the open nature of blockchains and the advent of smart contracts should make this process transparent, safe and easy.
Just like any other NFT, the exchange of ownership and funds will take place autonomously when a bid is accepted and the new ticket owner will be visible for all to see.
Updated metadata
To many, tickets aren't just pieces of paper. They're used to remind us of memorable times. But how great would it be if those memories were actually visible on our tickets? NFT tickets allow ticket creators to update the metadata and change the look of the NFT.
Imagine your ticket to a cup final is updated with a clip of your team lifting the trophy for example. This would be a great way for fans and collectors to receive a more collectable item while also helping to keep memories alive.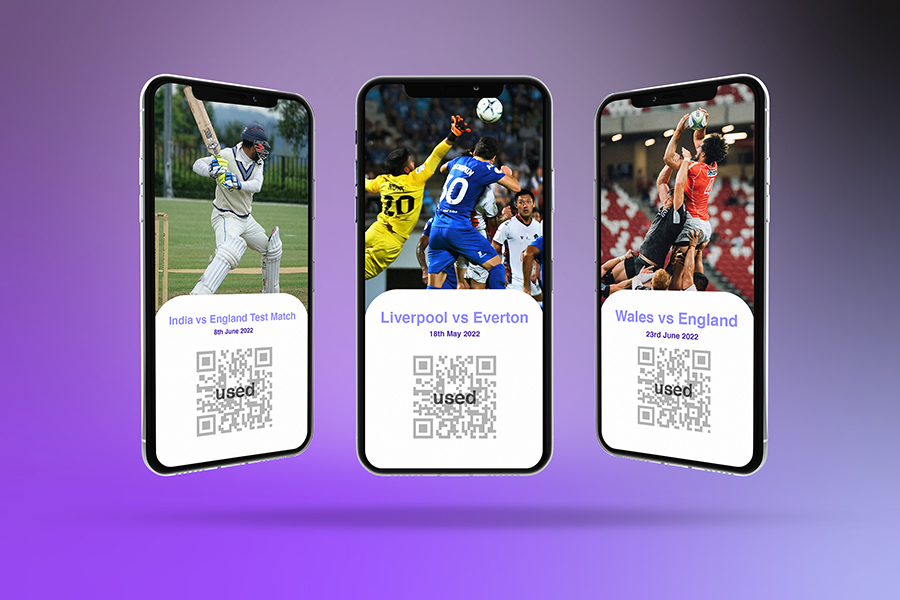 Perks from organisers
While the verification of ownership is an advantage to those selling tickets, the benefits should also trickle down to those who have purchased tickets. Making ownership more transparent will allow ticket issuers to reward those who have purchased tickets.
A music artist, for example, could reward anyone who attends more than one of their tour dates with access to limited edition merchandise or exclusive bonus tracks. The use of crypto wallets to store NFTs would also allow any future perks to be airdropped straight to the ticket holder's address which should bring collectors and creators closer together.
NFT ticket companies
GUTS Tickets/GET Protocol
GUTS is the first ticketing system to be powered by their partnering project: Guaranteed Entrance Protocol (GET). GET provides the infrastructure for any ticket issuer to adopt NFT, or smart tickets in a way that causes minimal disruption to their current process through their 'digital twin' product.
GUTS provides a platform where museums, theatres, concerts, festivals and more can create, sell and validate tickets to their events whilst maintaining control of tickets and how tickets are resold.
YellowHeart
YellowHeart have taken on the challenge of bringing value back to the music industry. Their collaboration with Kings Of Leon resulted in the first NFT album released by a major artist. The special NFT editions of When You See Yourself along with 6 golden ticket NFTs which entitled holders to KOL concert tickets for life raised over $2million.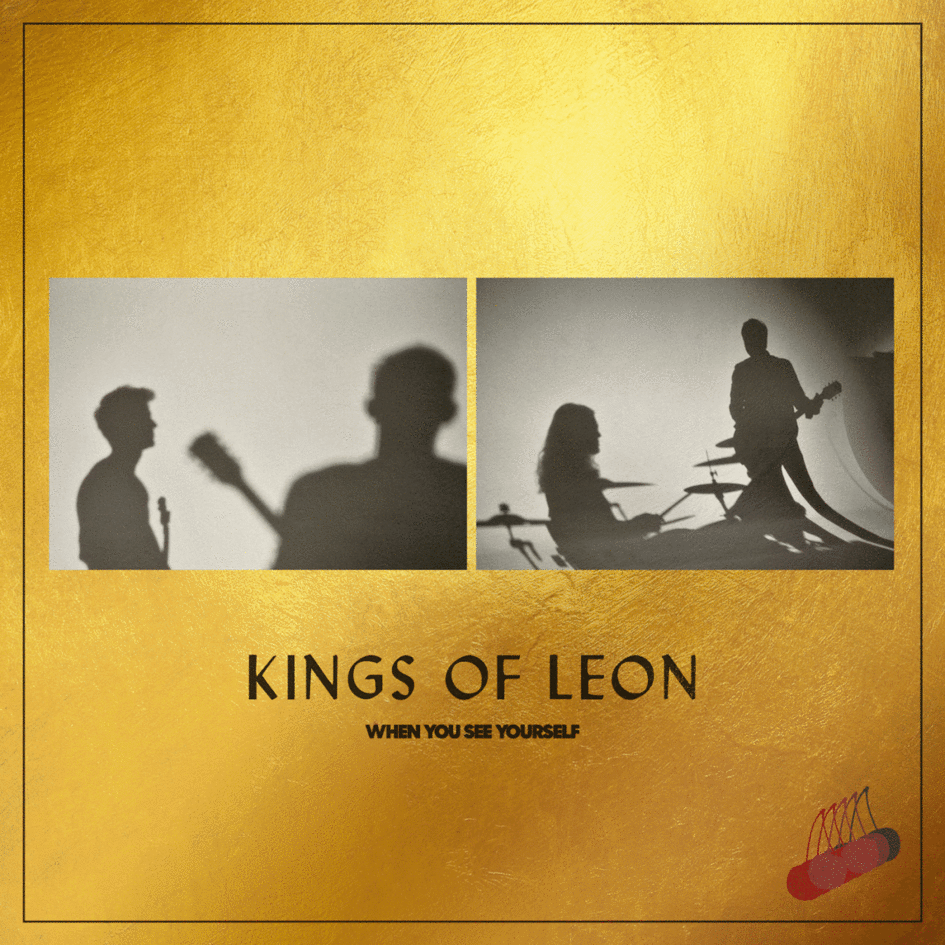 Relic Tickets
Relic allows ticket issuers to create 'smart tickets' that are registered on the blockchain and are connected to each holder's smartphone. NFT San Francisco became the first NFT ticketed conference with the use of Relic's NFT ticket platform.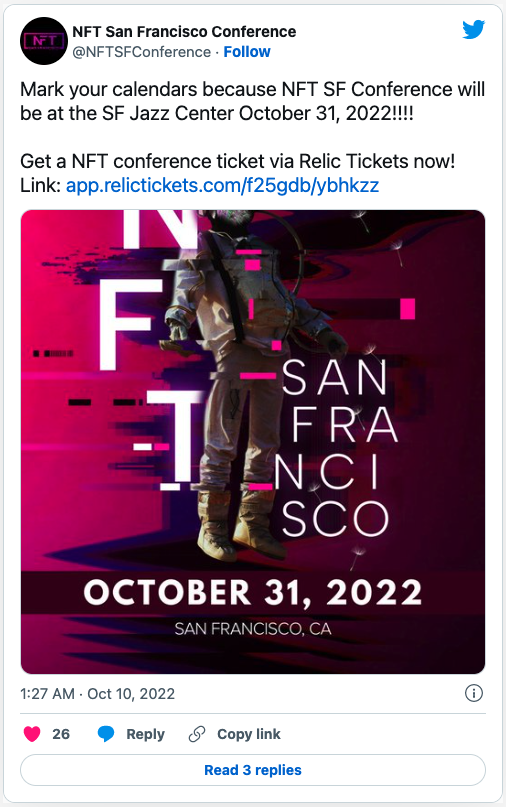 SeatlabNFT
Seatlab is aiming to re-establish the relationship between events and attendees. Their platform, built on the NEAR network, aims to eliminate many of the problems with the current ticketing landscape in a way that doesn't require users to be experienced crypto users. Their integration of a fiat on/off ramp, simple wallet creation and covering of gas fees makes it a familiar experience for those who are just stepping into the web3 world.
NFT Tix
NFT Tix has recently released their Beta version of the NFT ticketing platform. Although not fully complete, the project has already supported the first ever NFT ticketed football match which was played between FK Željezničar and FK Sarajevo, otherwise known as the Sarajevo Derby.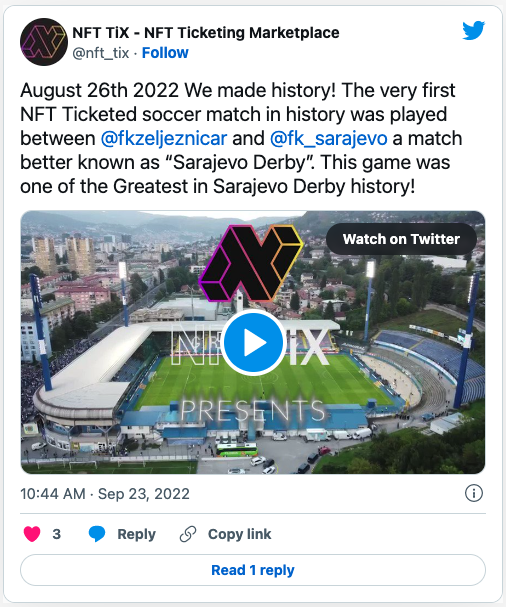 Check out our other article on how NFTs can be used as customer loyalty cards or let us know your thoughts on NFTs via twitter!