Published 23rd March 2021
What is MoonCat ​Rescue?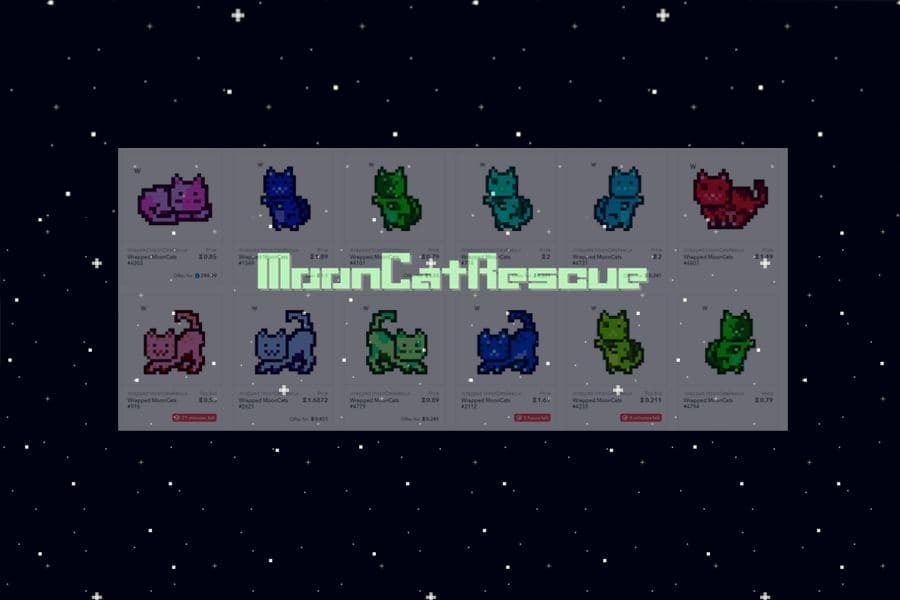 If you've spent any time on Crypto Twitter recently, you've properly seen more virtual cats flooding your feed, but why? We give you a rundown of the 2nd oldest NFT in history - MoonCats!
So what is a MoonCat?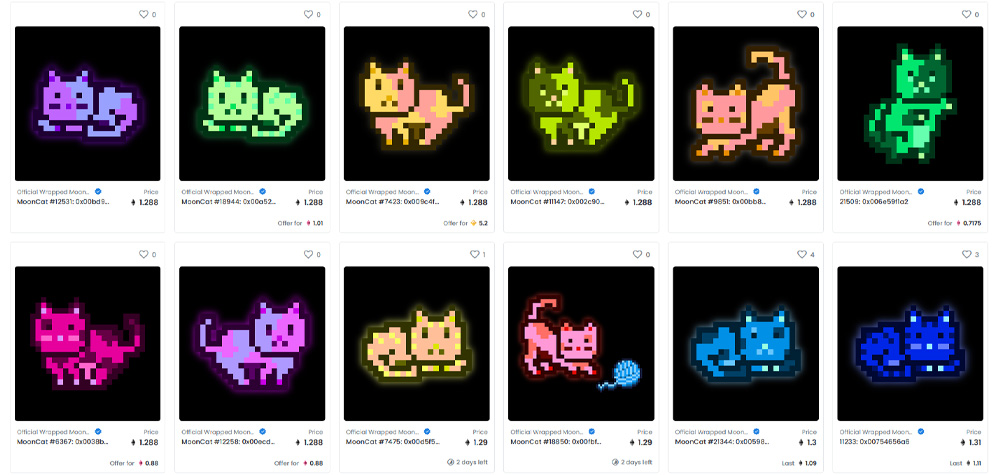 A MoonCat is an NFT collectable piece of art. Essentially they are pixelated collectable cats, capped at 25600 pieces and randomised based on a set of attributes.
Each cat is unique due to the number of possible attributes, made up of a range of of colours and patterns.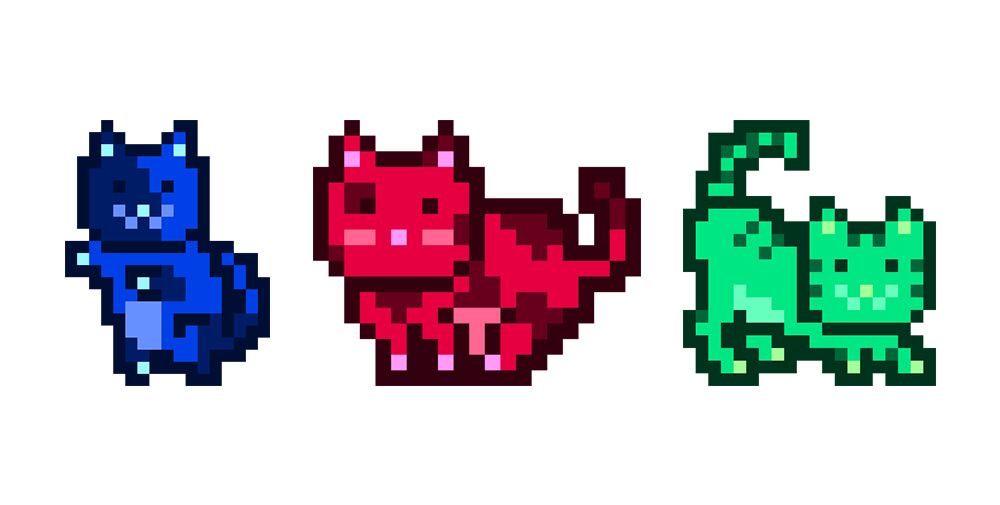 It's hard to trace who re-discovered MoonCats, but it seemed to have been ETHoard who at around 7 am on the 12th March 2021 tweeted out this;
While maybe not as eye pleasing as the recent #CryptoCats discovery, after that rush happened I started digging around and came across #MoonCatRescue. Inspired by Cryptopunks as well, and actually predates CryptoCats. /1

— ETHoard (@ETHoard) March 12, 2021
The tweet was picked up and discovered by many more popular accounts in the "Crypto Twitter" space who also started tweeting about it;
Mooncats look like the 2nd oldest #NFTs on Ethereum…

How to claim for free? See below, DYOR, not responsible.

1. Find Cats https://t.co/S7G2N83pDj
2. Record seed and ID
3. https://t.co/CmoUPrmepM
4. Connect MM
5. RescueCat() enter seed
6. Pay Gas
7. Call GiveCat(to claim)

— Allen Hena (@RealAllenHena) March 12, 2021
These tweets caused a rush of people "rescuing" the cats, and within 3 hours they all were minted so no more could be "rescued".
As mentioned by Allen Hena in the tweets, the interesting thing about MoonCats is their history. Looking at the contract here, you can see it was deployed on the 9th of August 2017, making it the second oldest known randomised NFT project on ethereum, predating CryptoKitties (Nov 2017) and only being beaten in age by CryptoPunks (June, 2017).
So why have MoonCats grown so much in popularity?
Due to the age of the project, MoonCats have been seen to hold a high value. The hype of them being discovered have meant that an NFT that cost around 0.02 ETH to mint are now reselling for an average of 0.8 ETH.
With many collectors even starting to collect large amounts of MoonCats, in some cases basing these collections on how much the cats look like Garfield the cat, these collections being listed for many more ETH.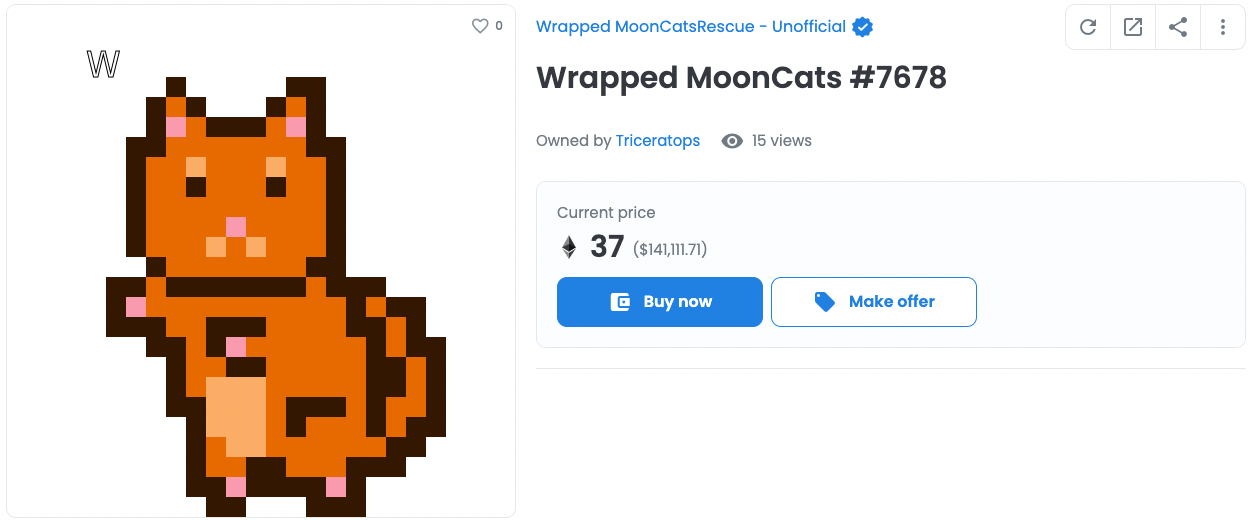 How you would have rescued a MoonCat:
[Warning, all cats have now been rescued and following these steps will waste your gas]
Use the  MoonCat Rescue website to "Scan" for cats
This generates a seed & an ID when there was still cats remaining, these were then used to execute the smart contract to "mint" the cat as your own.
Paying just the gas fee of executing the smart contract, you would now own your very own MoonCat
I missed out on minting a MoonCat, what's the best way to get hold of one now?
There are currently two marketplaces for buying second hand MoonCats;
This is the "official" marketplace for transacting MoonCats. Built by the developers of MoonCats, the market allows you to both buy and sell MoonCats.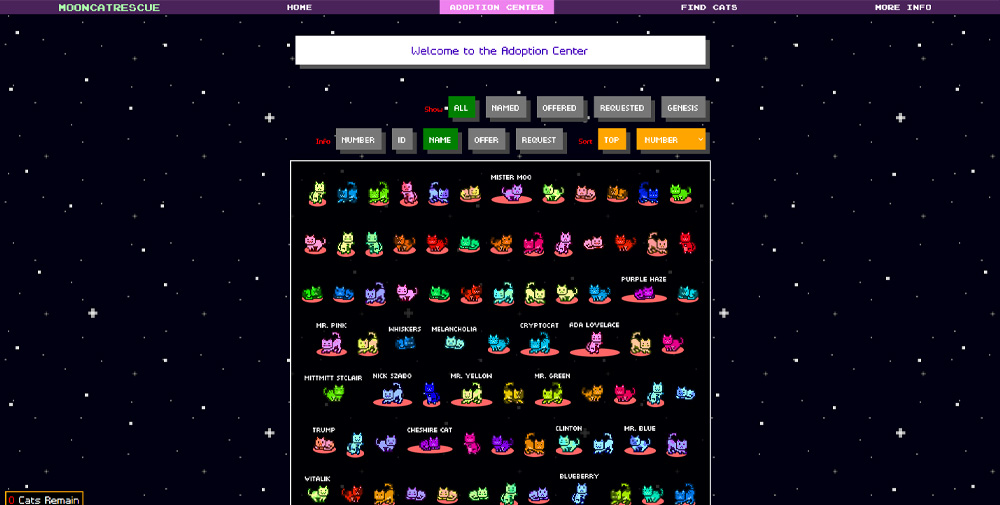 This is a larger NFT marketplace that is not only for buying and selling MoonCats but also features several other projects including, CryptoPunks, HashMasks, Sorare, Decentraland and many many more. It has a better UI than the adoption centre but is a "less official" option due to it not being created by the MoonCats developers.
However, be aware that the MoonCats on OpenSea must be "wrapped". This allows them to be easily transferred and sold through OpenSea. More information on how to "wrap" your own MoonCat can be found here.
What's next for MoonCats?
Following their re-popularity, the developers of MoonCats have reappeared and are actively supporting and communicating with the community.
You can check out Ponderware (the devs behind the project) on Twitter or on Discord where you can keep up with announcements, exchange MoonCats, and chat with the community.
Check us out on Twitter, or Contact Us if you'd like help with your next NFT project.