Published 5th November 2021
The Metaverse: What is the metaverse and why is Facebook going all in on it?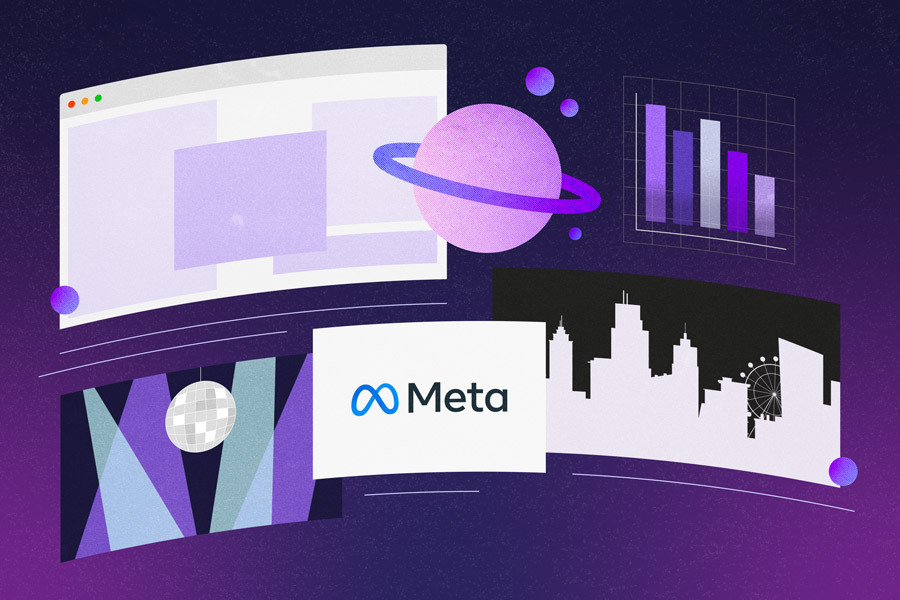 Just as Reginald Kenneth Dwight became Elton John, Facebook is now 'Meta'. On Thursday 28th October, founder Mark Zuckerberg announced the change to the world in an hour long keynote that left us all asking the same questions. Why did they do it? And what the hell is a metaverse?!
Why Has Facebook Changed Their Name?
It's the question that everyone is asking. Why do Facebook, a company that last year generated almost $86billion in revenue, need to make any changes – let alone one as big as changing their world famous name. 
Introducing Meta to the world, Zuckerberg explained,
"Today, we are seen as a social media company but in our DNA we are a company that builds technology to connect people and the metaverse is the next frontier, just like social networking was when we got started"
Simply put, it appears that Facebook wants to move away from being considered a social media platform. It's undeniable that when you hear Facebook, you think of likes, comments and friend requests, or their other platforms such as WhatsApp and Instagram. Facebook, or Meta, now appears to be going all in on the metaverse and the name change reflects their desire to be considered the leader in the virtual worlds space.
What Is The Metaverse?
The four words that have been typed into Google hundreds of thousands of times since Zuckerberg announced the name change last week. Just 'What is the metaverse?' Let us try and put it in simple terms.
The easiest way to explain it would be to say think of the movie 'Ready Player One' (check out the trailer here for those of you who aren't familiar). 
The metaverse will in a sense bring the internet to life. The place where we spend most of our time is about to go virtual. Websites will be replaced by interactive worlds that can be viewed through a virtual reality (VR) headset and not just through a screen. VR headsets will allow us to step inside a whole new world where we will eventually do all the things we do in the real world. Using avatars to represent ourselves in digital form, we will be able to work, learn, socialise and even keep fit in the metaverse. 
Zuckerberg views the metaverse as the next phase of the internet. He stated,
"We believe the metaverse will be the successor to the mobile internet, we'll be able to feel present – like we're right there with people no matter how far apart we actually are"
If Zuckerberg's vision becomes a reality it will ultimately allow us to remove the barriers between the physical and digital world. 
Note Meta have already made it possible to virtually connect with your colleagues with their platform Horizon Workrooms.
Is The Metaverse For Gaming?
When you hear the term digital or virtual worlds you probably think of Fortnite and Grand Theft Auto maps. Or any other fantasy gaming land that we experience via games consoles.
However, the long term future of the metaverse will incorporate far more than just gaming. Whilst currently VR technology is mostly used within the gaming industry, it appears that Meta will aim to incorporate almost all aspects of our daily lives into the metaverse using virtual reality technology.
Still struggling to get your head around the metaverse? Think of it like 'the Sims' being brought to life. Although you won't be controlling a character with the click of a mouse, you will be your character or rather your character will be you! 
All the things you were able to do in SimNation like designing your home, going shopping for outfits and socialising with friends will be how you spend your time in the metaverse. To realise the enormousness of the metaverse, couples may meet, date and get married in the metaverse – literally real life Sims!
What Will We Actually Do In The Metaverse?
Let's fast forward ten years and see what the metaverse may actually look like. 
Jeff and Elon live thousands of miles apart yet want to celebrate the launch of their new spaceships together. Their night out starts when they both put on their Quest VR headset from their own living rooms. This would take each of them to their virtual home in the metaverse. 
From there they teleport to the meta-mall where they shop for a digital outfit for their avatar. The virtual mall hosts all the same brands you'd find on the internet as we know it. Gucci, Nike, ASOS – all selling digital versions of what you'd find on their websites today. They purchase their new outfits and fly to a venue where Justin Bieber is performing to a sold out crowd. 
In the real world, Bieber is performing to 20,000 fans at Madsion Square Garden yet ten times that number are watching the same concert from the comfort of their own homes along with Jeff and Elon. 
After the concert, the two head to a VIP after party, where Bieber himself is a guest and performs a private session to those who could afford the entry fee of 10 Bitcoins. 
The morning after, the two don't have to deal with any hangxiety from their late night. Instead, they pop their headsets on and head for a gym session while discussing all the crazy shenanigans they got up to last night.
How Will Facebook Create The Metaverse?
Facebook's mission has always been to bring the world closer together. Their official mission statement reads: 'to give people the power to build community and bring the world closer together'. Facebook, the social media platform, has achieved this through features such as photo sharing, messaging, marketplace, suggestions and tonnes more. 
It's clear that Facebook has always centred around ways in which people can be brought closer together without actually physically being together. 
Meta have now started the next phase of this mission with their VR technology brand Oculus creating products to be used with their VR platform, Horizon.
Oculus
Whilst the name change may have come completely out of the blue to most of us, those in the industry know Facebook has been making moves into the metaverse for quite some time. Back in 2014, Facebook acquired Oculus for an enormous $2.3billion.
Oculus makes virtual reality technology which will be used to enter the metaverse. The acquisition now makes a lot more sense as we begin to realise the potential of virtual reality and the metaverse. 
Oculus' latest VR headset is named the Oculus Quest 2. Currently, consumers can use the Oculus Quest 2 to play virtual reality games from the Oculus store such as 'Population: One' but can also connect their headset to a gaming desktop to play virtual reality games made by other developers such as 'Half-Life: Alyx'.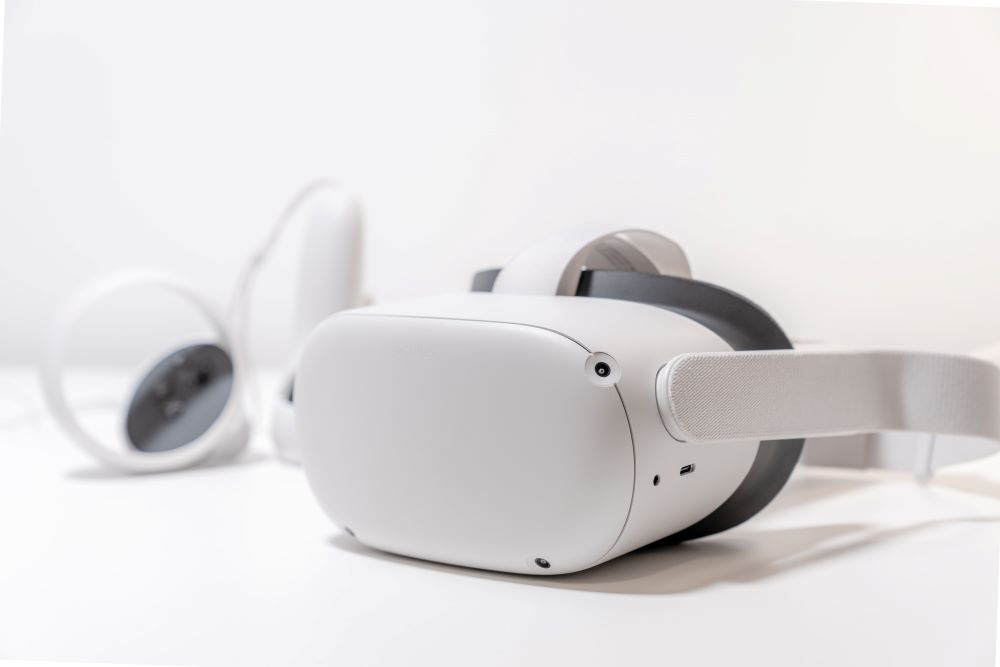 Last Thursday's keynote also saw Meta introduce their upcoming Oculus device, Project Cambria. The newest headset will focus on face and eye-tracking as well as having a more sleek design.
Horizon
Whilst the concept of the metaverse is still very much in its infancy, Meta has already begun to create the first stages of a virtual universe.
In 2019, Mark Zuckerberg introduced us to Facebook Horizon – now known as Horizon Worlds. This is Meta's virtual platform that allows creators to design their own worlds in the metaverse; back in 2019 Facebook introduced the idea with the example of a world where consumers are playing laser tag on the moon. In some sense, Meta is allowing creators to build the metaverse for them.  
Along with the recent name change announcement, Zuckerberg also brought us the latest addition to the Horizon landscape, Horizon Home. This is the first stage of creating an individual home in the metaverse. The Meta founder explained that "it will be the first thing you see when you put on your Quest headset"
Users will be able to design their own home space where they can play games, hang out with friends and much more. 
So just how long before you are putting on your Oculus Quest headset and heading to work in the metaverse? Zuckerberg predicts the metaverse will become mainstream in the next five to ten years. If the Meta boss' prediction is correct, expect other big name brands to jump on board the 'meta-ship' and start adapting for the next coming of the internet. Whilst the race towards creating the metaverse may heat up in the near future, one thing's for sure, no company is betting on meta, as aggressively as Meta.