Published 25th January 2021
Why Sorare Will Take Over The Fantasy Football Market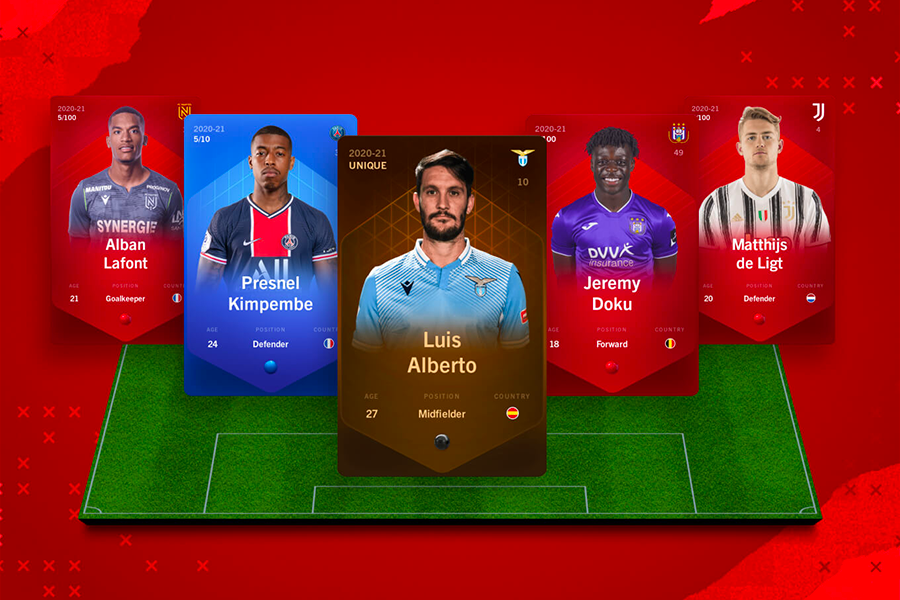 At Avark we love checking out the latest innovative NFT projects and Sorare is no exception! Here's 5 reasons why we believe Sorare is going to be hitting new heights in 2021.
1. Competitive Nature
The competitive nature is often what makes any Fantasy Football game stand out and Sorare really stands above the rest here.
Not only are the cards tradable NFT's worth ETH, but you can use the cards to win prizes every week.
Each week Sorare hosts a wide range of tournaments (S05) where players can enter their teams (made up of 5 players) and compete for prizes. Prizes range from 0.01 ETH  (around £9/$13 at the time of writing) to tradable cards which can be worth thousands!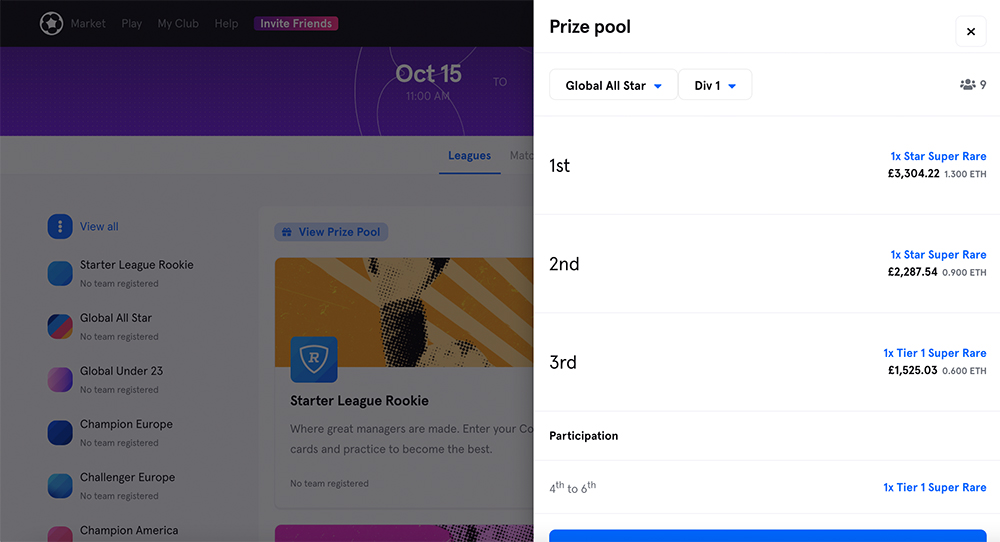 The prize you receive all depends on how you perform against other players in the game. The game uses a points-based system which means cards accumulate points based on how well players perform in real life.
Think you've got a team that can compete with the best? The players who rank in the top 10-15% can expect big prizes with the best reward cards and/or ETH rewards.
However, Sorare isn't just for players with huge teams and big budgets. Some of the major tournaments on the platform such as Global All-Star also offer 'Threshold' prizes to players. This means that players have to achieve just 205 points in a given week to be eligible for an ETH payout. For those that are new to the game, that's just an average score of 41/100 per player.
With around 10,000 active users and the numbers joining the platform rapidly growing, this level of competition is only going to get bigger and better over the coming year.
2. UX Design
One thing that sets Sorare apart from other Blockchain/NFT games is the design of the game and intuitive User Experience.
A great example of this is how Sorare onboard new players onto their Fantasy Football platform. Players start by selecting 10 free cards and the Sorare site guides players through this experience step by step.
Sorare has tried to streamline this onboarding process and have added cool new features such as autoselect my players for a more beginner-friendly approach.
To add to this the cards themselves look great, especially when you field a whole team for a game week. This is important for NFT's as the cards are also collectables. Sorare has tried to add to the collectable element of the game and has recently released 'Legend Cards' into the game. This means players can now buy players such as David Beckham and Diego Maradona.
Take a quick look at the in-game experience for Sorare Players below. The UI shows lots of information including players fixtures, average scores, positions and their level of XP, despite this the design is super clear and easy to understand without overwhelming the users.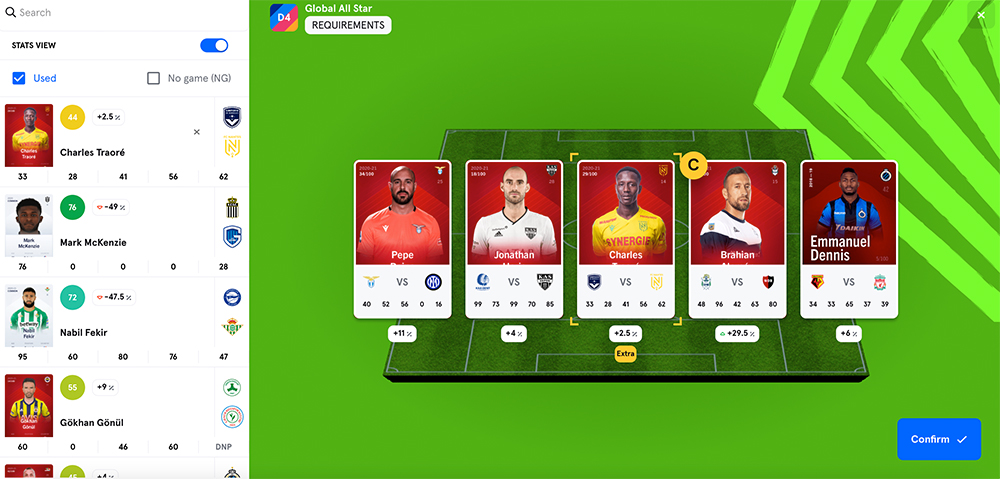 However, like all UX/UI design that's not to say it can't be improved. One thing we'd love to see is a better way to display the players scoring metrics, this can be quite overwhelming for new users due to the wide range of factors that influence the points gained by players.
Another little UX improvement we'd love to see is a way of tracking your game week rewards. Currently, it's quite difficult for users to keep track of this without going back to each game week and creating a manual record of rewards. We've put together a little design of how this could look below: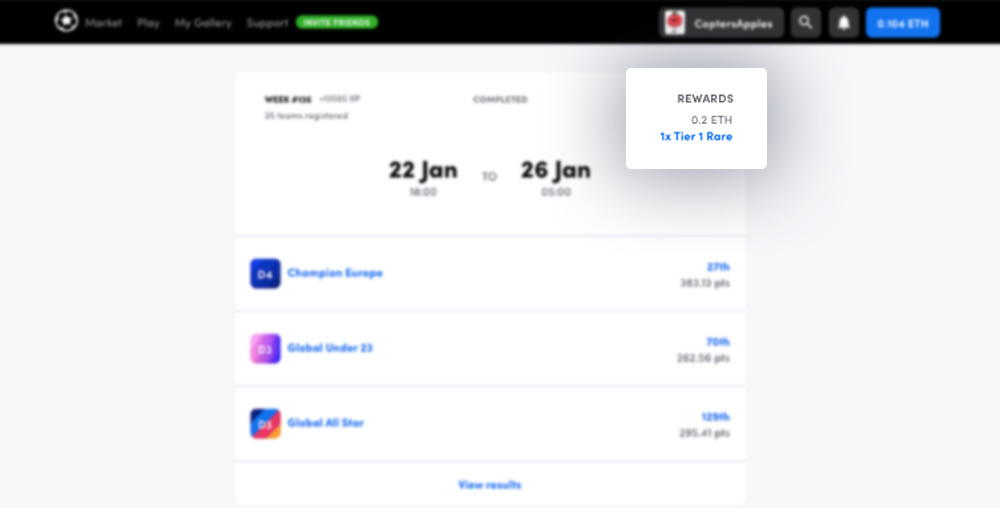 Despite a couple of little tweaks here and there we think the UX design of Sorare does set it apart from other Fantasy Football and NFT games!
3. A community like no other
What adds to the Sorare community is the wide variety of free tools and resources available to both new and experienced players alike.
The diverse range of resources available to the community certainly improves the experience of the game and gives new users a real sense of community that the game is worth the investment of their time and money.
The following tools have all been created by the Sorare community for the community!
Sorare Data
Sorare Data is one of the most valuable tools that any Sorare Manager has at their disposal. The Sorare Analytics platform allows managers to take a more in-depth look at players performance over entire seasons. Here you can also track the value of your own and other managers team, search for the best value players and access so much more insightful data.

Furthermore, the platform has recently gone one step further and has created a Sorare tournament of its own. Once a month Sorare Data puts on 11 a side tournaments where Managers can compete to win even more prizes.
This is one of the amazing benefits of Non-Fungible Tokens, as you own the cards you are free to use them in a range of different blockchain games and websites such as Sorare Data. This gives players true ownership of their assets and provides endless opportunities for tradable playing cards.
You can check out Sorare Data here.
Sorare Season Planner
Another valuable Sorare community resource is the Sorare Season Planner. One of the biggest problems players face in Sorare is getting all of their 5 players to play in a given game week.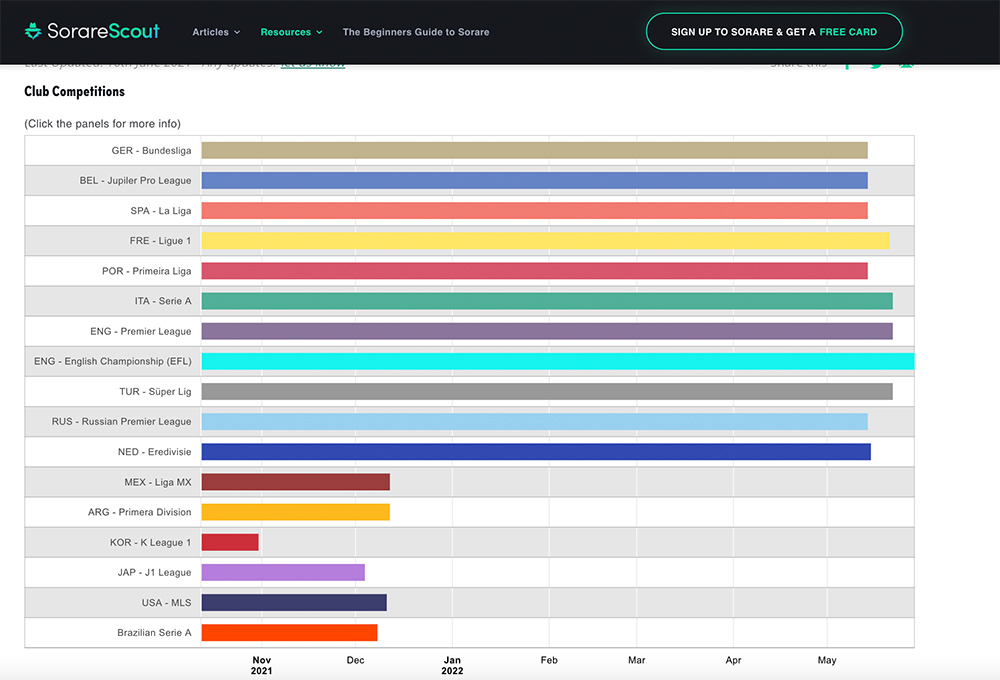 The Season Planner can be a huge aid here as you can get an idea of when to buy and sell players on the game. For example, some players may decide that they don't want to buy any Russian players in December as the Russian teams have a long winter break.
The planner can also be used by more crafty players to get some bargains! Some players may think a player who hasn't played in 5 games could have just fallen out of favour with a manager, however through the use of the planner, players may see that their domestic league is just about to start again.
The Sorare Podcast
The Sorare podcast is another fundamental part of the community, with Sorare players coming together every week to chat about all things Sorare!
The podcast team talk about the latest news and improvements to the platform as well as looking ahead and reflecting on previous game weeks.
You can listen to the podcast on Spotify here
4. Champions of Europe (and beyond!)
Sorare truly is the Champions of European Football, with clubs such as Liverpool, Real Madrid, Bayern Munich, Roma and so many other European Giants are already in the game.

Since its launch in 2019, Sorare has rapidly grown its contracts with huge clubs both in Europe and on the wider international stage. The community is also starting to see a trend of entire leagues being added to the game, recently every team in the Dutch Eredivisie was added to the game at once!
5. Making Blockchain, NFT's and Crypto Simple!
The final thing that we think makes Sorare stand head and shoulders above the rest is the way they make Blockchain simple! For new players Blockchain technology can be a huge learning curve, NFT's, Ethereum, Crypto, what does it all mean?
One of the biggest examples of this is how Sorare allows players to buy cards on the game directly using their debit/credit card. For users outside the Blockchain space buying ETH, setting up a wallet and using a crypto exchange could prove a lengthy and difficult task. Sorare makes this task so much easier as players can opt to use their card and have this directly converted into ETH.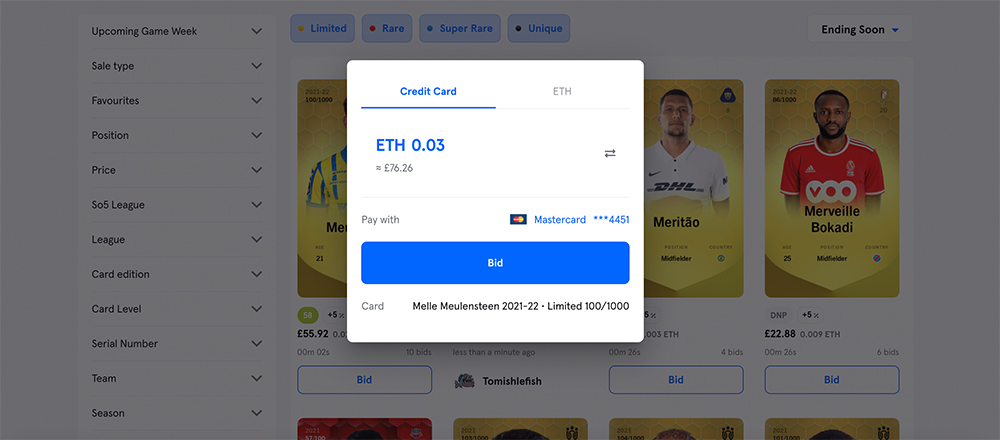 Another example of this is how players never have to worry about Ethereum Gas fees on the platform. Every transaction on the Ethereum network involves a Gas fee, this means that every time a player is transferred from one manager to another there is a gas fee that is associated with it. Sorare handles all these extra costs in the background so players don't have to!
The rich community support also comes through here, as you will regularly find members of the Sorare Discord community helping to guide new players through any crypto sticking points that they might come across.
Furthermore, Sorare can even be a bit of a gateway to crypto and blockchain technology!
What are you waiting for! Get started here and receive a free rare card on your 5th new signing. Want to learn more? Check out this 'Complete Guide to Sorare'.
That's our top 5 reasons why we think Sorare will smash the Fantasy Football market in 2021. What do you think? Have we missed anything? Follow us on Twitter (@AvarkAgency) and let us know what you think.
Not interested in Football? Sorare have recently launched NBA Sorare for all the basketball fans out there! Take a look at this beginner's guide to NBA Sorare.
Disclaimer – We've snuck a little referral link should you wish to join, with our link you get a free rare card when you buy 5 players on auction!