Published 20th October 2020
Blockchain Web Design Guide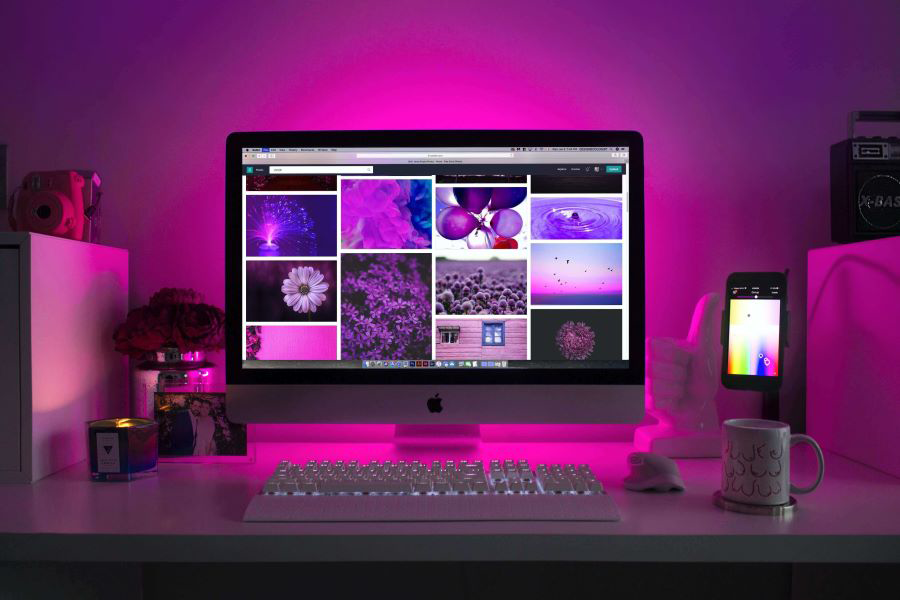 Are you starting a new blockchain project? Wanting to apply the tech to your existing business? One thing you can't overlook is the importance of blockchain web design.
Today's users' trust is hard-won. They have high expectations from a website, and will quickly zone in on any aspect of a site that doesn't look completely professional. And because blockchain tech is still unfamiliar to most people, your site must work even harder to overcome the scepticism of both customers and investors. Blockchain Web Design is all about building strong brand trust and a connection with your customers.
In fact, there are unique challenges involved with designing a blockchain website. The design needs to convey that you have the expertise to employ such cutting-edge tech. At the same time, it needs to highlight the benefits of that tech and make it easy for users to understand.
What's more, because the blockchain space is fast expanding, your website could face competition from other blockchain projects as well as from traditional alternatives. Potential investors will carefully research (DYOR) projects before choosing one to support. A key component of that research? The quality of your website.
To sum up, your website design can make or break the project. It must perform flawlessly and send the right message to customers and investors, and it has to be memorable to stand out from the pack.
As a blockchain web design agency we know what elements go into creating a great blockchain website. To help inform your own website design, in this article we'll give you a round up of the best blockchain websites out there. We'll break down what makes these designs so effective and how they could take their site even further.
Good examples of blockchain web design
First up, let's take a look at some examples of great blockchain website design:
A great example of the power of first impressions, Solana's homepage grabs attention with a futuristic hero image, smooth animated headings and a live counter of the project's metrics. It's a polished intro that conveys the innovative nature of Solana's tech and the company's expertise.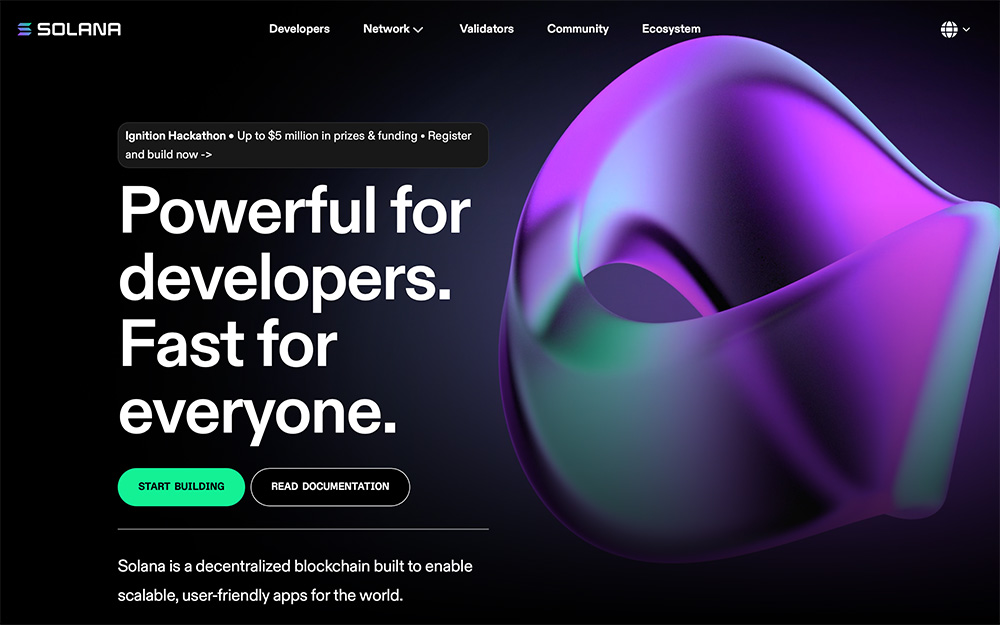 Site-wide, a variety of bold animations, page transitions and hover effects engage the user and give the website a sleek, professional feel. Check out the site on mobile, and you'll find the animations perform smoothly and make scrolling a pleasant experience.
Solana's website design also uses colour boldly; icons and graphics run the full spectrum of the website's palette. CTA buttons vary in colour, too. These creative touches are balanced by a consistent typeface, familiar navigation and simple page layout. The overall theme of the website is confidently innovative, ideal for a brand that creates blockchain tech.
Polkadot's website design strikes a balance between professional and creative with clever use of colour and interactive elements.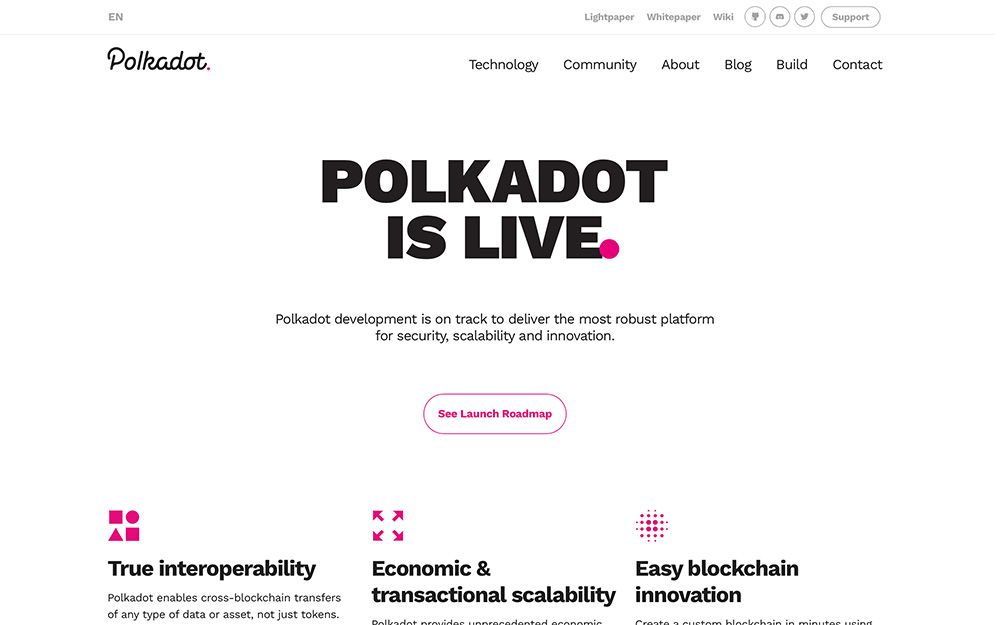 The homepage makes an impact with a bold heading framed by plenty of white space. Such a minimal design could come across as clinical, but the vibrant pink accents and friendly logo create an inviting feel. Below the fold the layout is sectioned nicely using grids, blocks and images to introduce key info.
The design uses plenty of animations (the elements on a page that move) to make browsing the site engaging. Take a look at the forward-moving hover effects on the navigation bar and CTA buttons.
Check out the page transitions and roadmap too, which feature upward-moving animation. These interactive elements create a sense of momentum and progress. The overall design is bold, dynamic and welcoming, and it's a compelling combination.
We'd expect great web design from a project that's created a Blockchain-based browser, and Brave doesn't disappoint. The homepage greets us with lively colours, bold headings and a prominent CTA button. Below the fold, fun animated images and videos help users visualise the project's key benefits.
The animated images which summarise the key security features not only add to the design but also help to build brand trust between Brave and the user.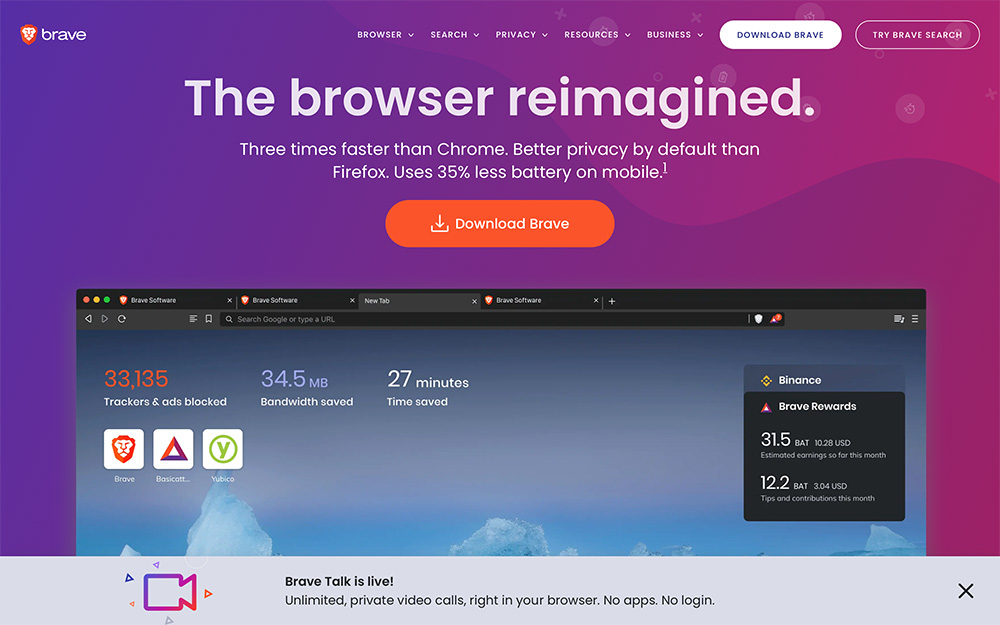 Site-wide, a range of videos, hover-effects and other responsive animated features take user interaction to the next level. While the layout varies page-to-page to keep users' interest, each page is appealing with plenty of white space and a clear visual hierarchy. Nicely presented copy text is concise and persuasive.
Notice that when browsing, the top menu bar is always accessible. This makes for easy navigation (a must for a website this size), but the bar also features a high-contrast CTA button to encourage conversions from anywhere on the site. Overall, this dynamic website design does a great job of engaging the user and promoting the project.
Iota's website design is sleek and sophisticated, with unique elements that give the site an innovative feel. The homepage captures attention with an intricate animated carousel, while below the fold an interactive menu against a video backdrop demonstrates Iota's technical expertise.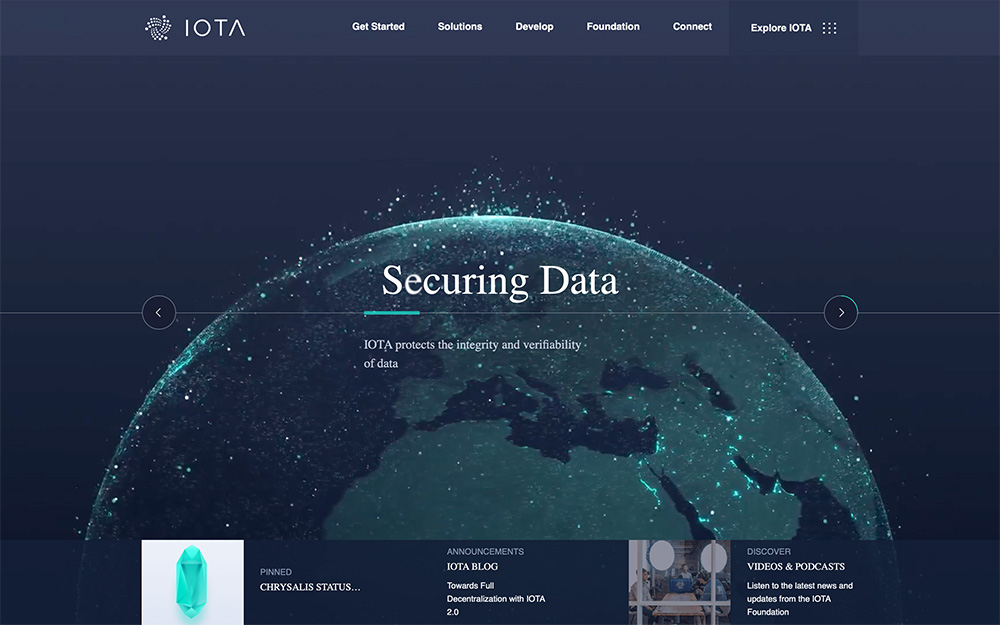 A well-sectioned and appealing layout presents key info in grids and cards. There are engaging interactive elements site-wide; check out the fade-in page transition effects, and the hover-state on certain cards that reveal a background image. Also notice the attention to detail on visual elements, like the colour gradient hover-effect on some CTA buttons.
It's worth pointing out the site isn't perfect – the complexity of its animations does create some performance issues in terms of load speed, especially on mobile. Users with slower connections or older devices may then generate different perceptions of the brand.
Cardano welcomes users with an eye-catching, spherical animation alluding to the idea of global connections, that sits beside their bold, white slogan. The animation encourages the attention of the user to be instantly drawn toward their slogan, followed by a description of what Cardona has to offer.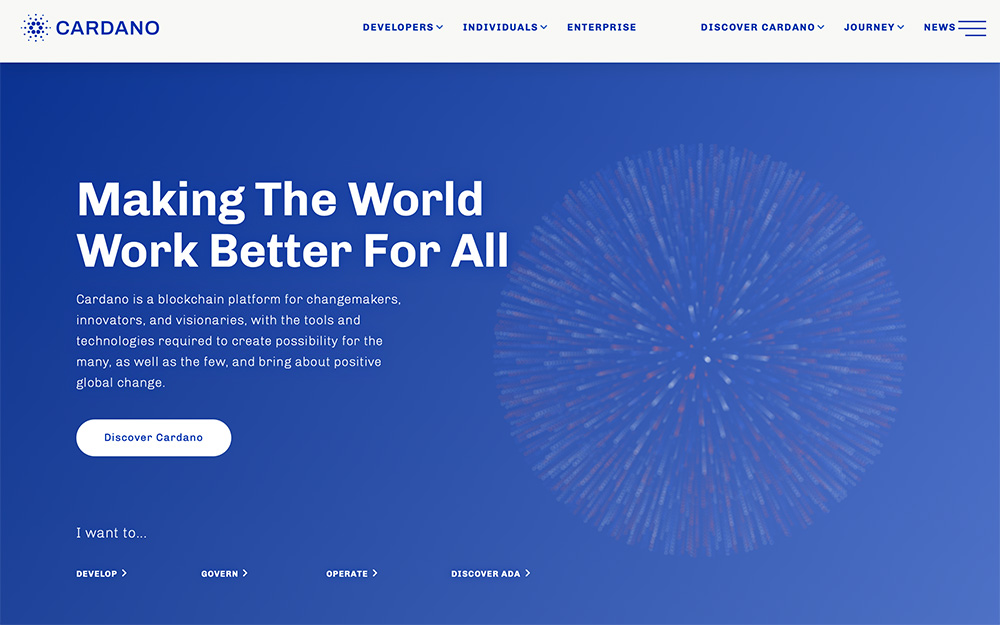 Although not laced in animation, Cardano involves heavy use of colours and shapes to highlight areas of importance. The occasional use of orange creates a stark contrast to the blue and white theme that dominates the website. This allows for features, such as quotes, to stand out.
The use of curved corners on borders gives the website a friendly feel. The curved corners also complement the oval and circle buttons that help navigate around the website.
A theme of astrology and discovery is carried throughout Stella's website which helps reflect the company's global reach. A minimal animation of the stars follows the user as they scroll down the home screen of the website creating a space-like feel.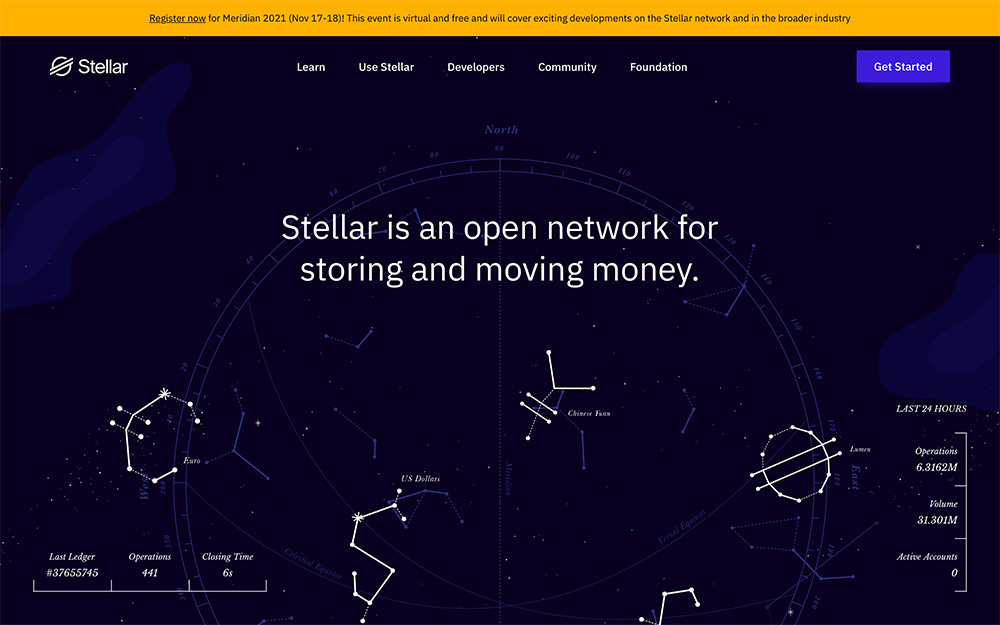 Animations on the website exemplify the phone app that Stella has on offer. The animations also help to add to the futuristic like feel of the Stella brand.
Ocean Protocol uses a minimalist but effective design with a white background complimenting the animated, pink, purple, and grey waves.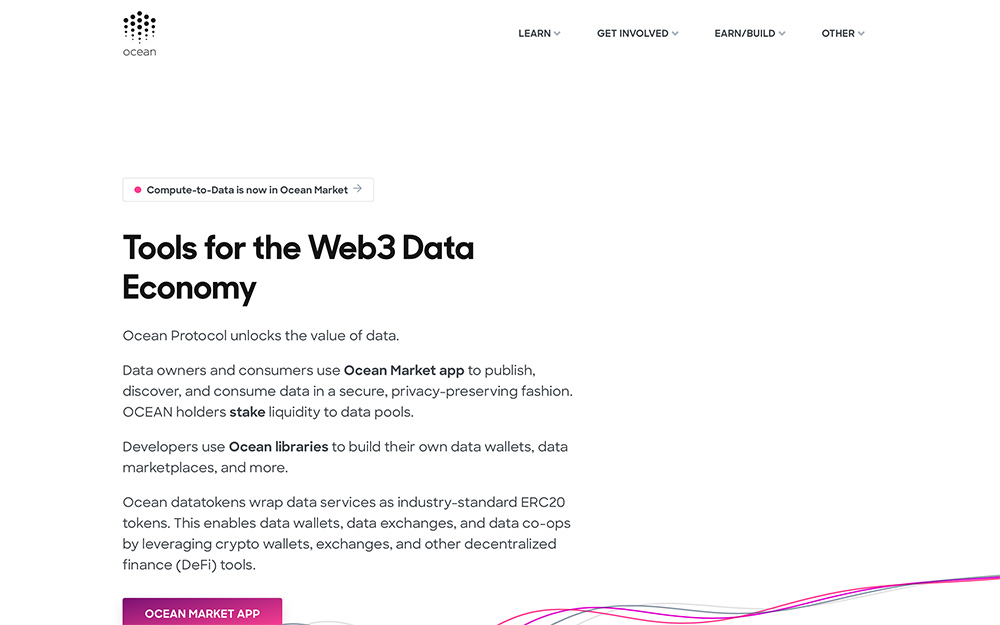 The large text boxes also give the page a modern feel and make the information seem much more readable. The shade of pink used on the animated waves is also used to highlight important information, allowing for attention to be easily drawn when scrolling.
Small animated transitions such as the smooth scrolling when selecting links, make the website more user-friendly. Making navigating through longer pages much quicker.
So there you have our essential guide to blockchain web design. Refer to this guide, and you can improve the design of your site.
We've shown how your design needs to be well-executed to win the trust of users, and to stand out from the competition. We've explained the unique challenges involved in designing a blockchain website. And we've given you real-world examples to show the different ways blockchain website design can be revolutionalise a project.
Want help designing a website or app for your project? Here at Sequence we specialise in blockchain web design services. Get in touch with us for a friendly chat. We're always happy to lend our expertise to new blockchain projects.