Published 11th July 2023
The Best Websites in Web3 | 7 Examples of Web3 Website Design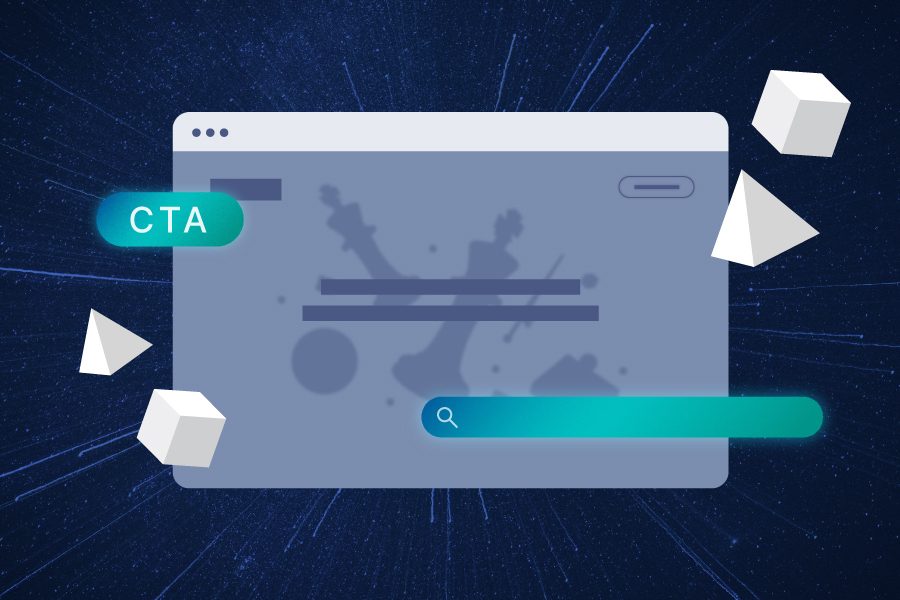 The world of web3 brings a lot of exciting possibilities for web design. It's time to think bold, fresh, innovative, and create a web experience users won't forget. Whether you're new to web3 or you've been here a while, we're here to help.
Today, winning the trust of users is an arduous task. Users are savvy and tech-aware, and will quickly shut down your site if they don't like what they see. This challenge becomes even more pronounced within the context of blockchain and web3.
Web3 users are early adopters, forward thinkers and often tech specialists, and they may know the ins and outs of your typical website. Designing a website in the web3 space presents unique challenges. The design should highlight and clearly explain the cutting-edge technology behind your product, while also showcasing the benefits it brings and ensuring user-friendliness.
Your website is the first touch point for users and investors alike, and they should be greeted with a friendly face. Make sure your website instils trust in users, helping you to build a strong community of real people with faith in your product.
How does web design in web3 differ from traditional design?
Web3 design actually holds many of the same principles as web2. However in web3, websites are often representing more complex technologies. A lot of people using the internet haven't even fully mastered web2, making it even more important that your website is clear and friendly to users of all levels of expertise. A lot of users that you will be trying to attract might actually have no interest in learning web3 jargon, and they shouldn't have to.
On the flip side, you don't want to annoy or alienate users who do have more experience in the space, so a fine balance is required. Making your site easier to use should not mean making it simpler, it just means you should make the user flow easier through your design.
When it comes to web3 web design, aesthetics and functionality can contribute to a greater user experience. From a design perspective, incorporating animation, 3D elements, storytelling and gamification all contribute to the perception of your blockchain project and help users to better understand your product.
Animation becomes a powerful tool to communicate complex blockchain concepts in a visually engaging manner, while 3D elements bring depth and interactivity, allowing users to explore blockchain-based virtual worlds. Storytelling plays a crucial role in conveying the purpose and value proposition of the project, creating a compelling narrative that resonates with users and potential investors. These methods are all powerful tools in educating users on the utility and real-world value of your project.
Examples of web design in web3:
No site is perfect, and a good web designer wouldn't copy anything from the following examples, but instead take inspiration. To help you make decisions about what works and what doesn't, here we have 9 examples of websites for web3 projects that incorporated the above concepts to create great user experiences, and how we think they can push their sites even further: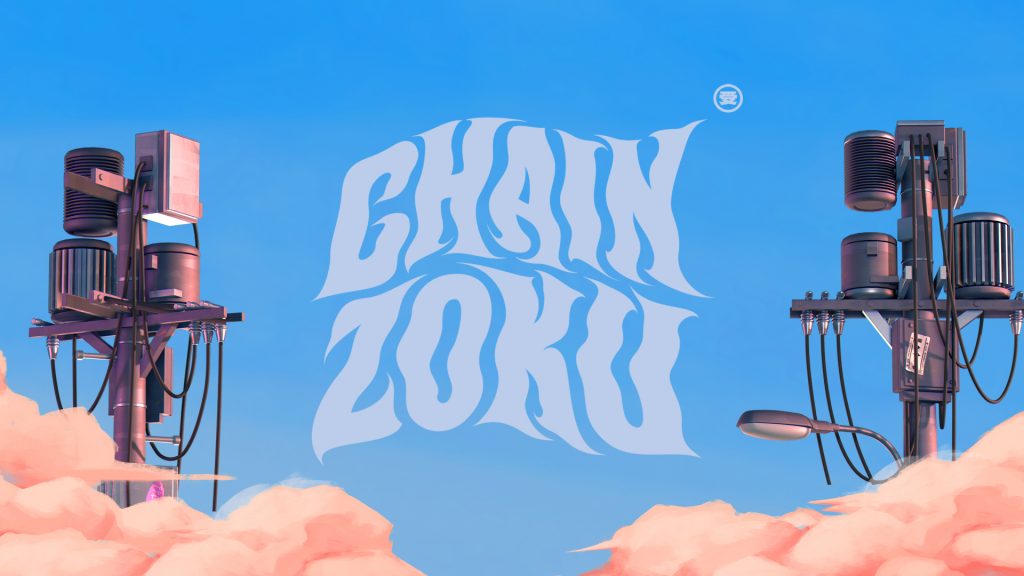 A great example of the power of first impressions, Chainzoku is an NFT project that seeks to incorporate NFTs and storytelling by giving users their own unique and customisable character that is just one part of an epic interactive story set in a near-future world.
The website represents these elements in an engaging format, presenting it almost as the opening to a film or video-game, allowing the user to scroll to reveal more and more about the narrative and features of the project.
This sense of self-driven discovery is a great feeling, and something that will resonate with users on the site and possibly encourage them to get themselves a Zoku. The whole site feels slick and smooth and it feels great to scroll through.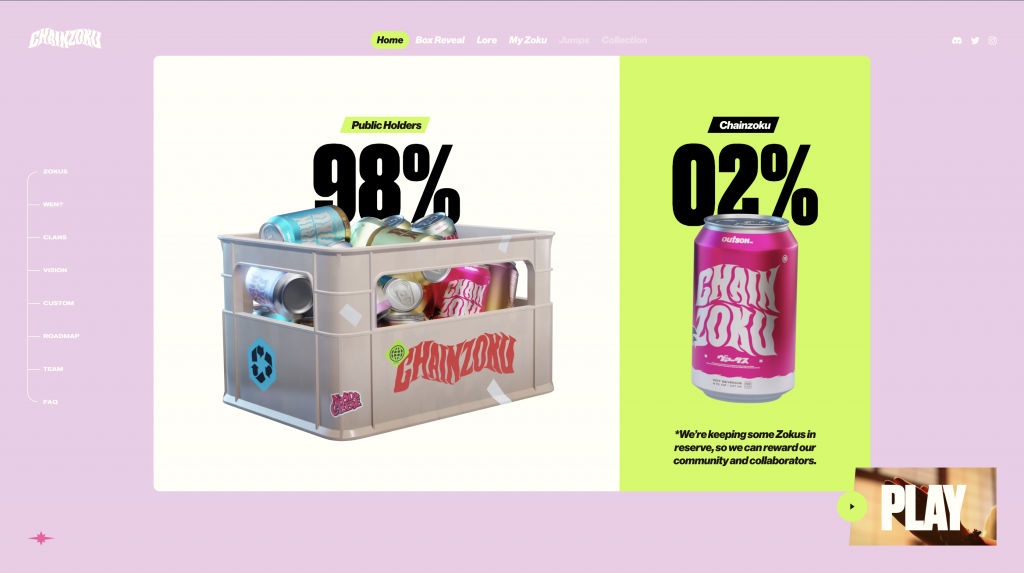 The important thing to note here is how the form matches the function and the aesthetics. The project is inspired by video-games and anime, and the website reflects that with its over-stimulating visuals and stylish typeface. The Zokus are the product here, and they are prominently featured throughout the site in a way that evokes its unique sense of style.
This design certainly wouldn't work for every type of blockchain project, but it fits Chainzoku, perfectly matching the aesthetics of the world and character they are trying to build. The takeaway here is for the web design to follow the product, not the other way round.
Another NFT project, this time exchanging an expansive narrative for generative art produced by AI. The Kumaleons are a 3000-piece collection of NFTs, each uniquely detailed but having the same basic form, that was free to mint upon its release.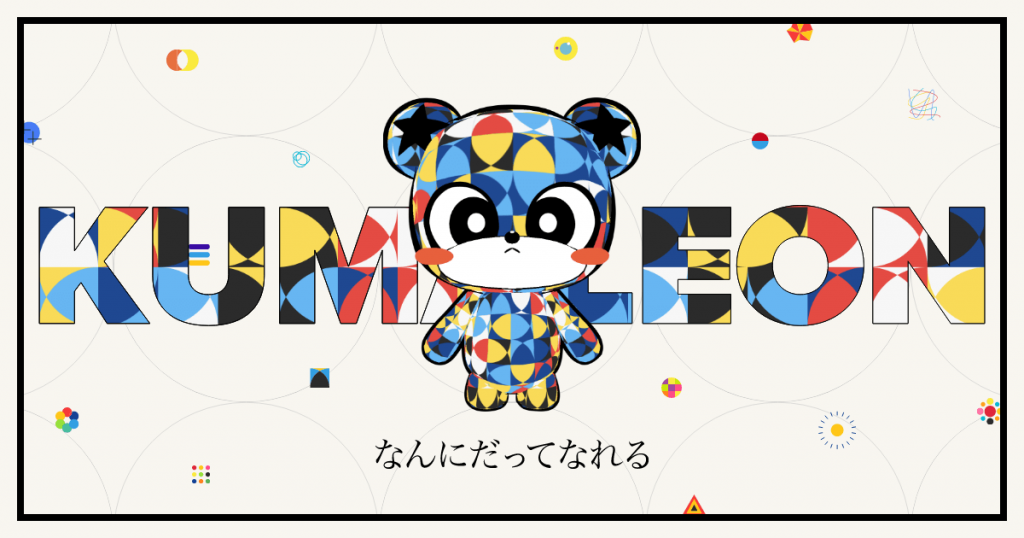 The website is a unique example of a fun and engaging format that generates a new look with each refresh, representing the generative nature of the product. Whilst this website is quite limited, it serves its purpose for what is a fairly simple project about NFT technology with AI image generation. The 3D animation of the Kumaleon itself is detailed enough for the user to see it as more than just a static image and want to learn more.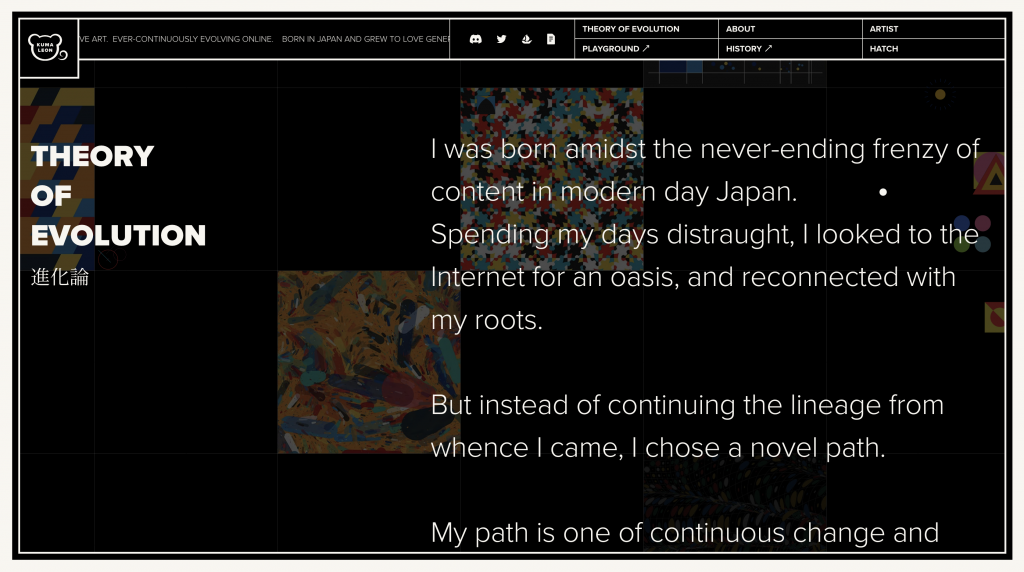 However, the landing page lacks any real clear direction or explanation, which could cause users to lose interest once they've got over the visual appeal. Users with less experience in the space could also become lost without a clear call to action (CTA) on the main page, wasting an opportunity for some engagement with the project.
The website as a whole is quite bare bones, but we still really enjoy the sense of childlike creativity and fun that it evokes. The site establishes a unique personality from the moment it loads, and isn't easily forgotten.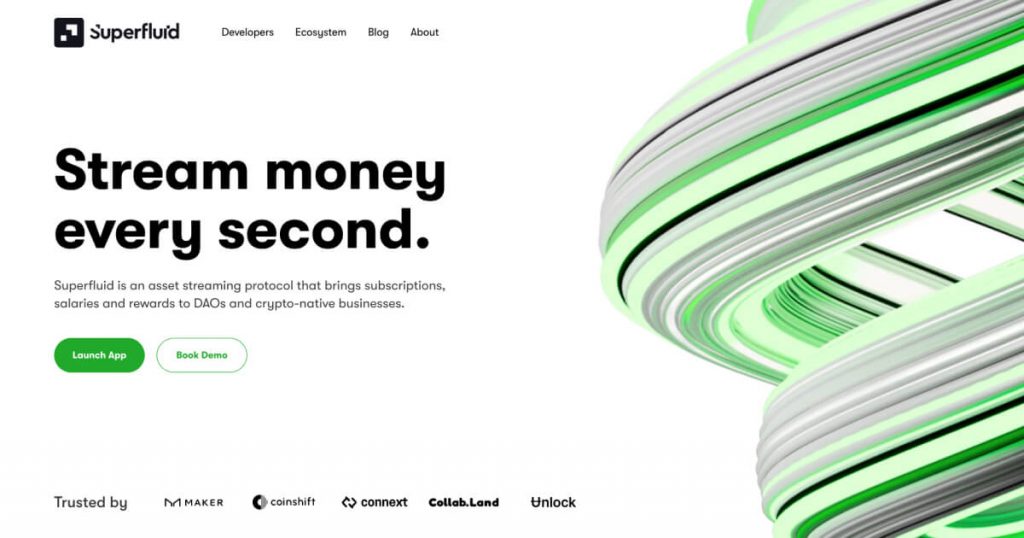 Superfluid is another example of the form matching the function. The function is to provide a financial solution service that turns ingoings and outgoings into steady streams of capital that can be controlled in real-time. Naturally, this service requires absolute trust, and this is reflected by the self-serious tone of the website.
Unlike the previous NFT sites, gamification and punchy graphics are unnecessary here, and could possibly even harm adoption of the product. The website is clear, concise and easy to navigate. It also contains a wealth of information about the team and the roadmap.
The graphics create a visual and tangible interpretation of an intangible concept, using photorealistic graphics to ground the user's understanding and build transparency. We especially love the fact that the wires pictured below evoke the same visual identity found in the logo of the site.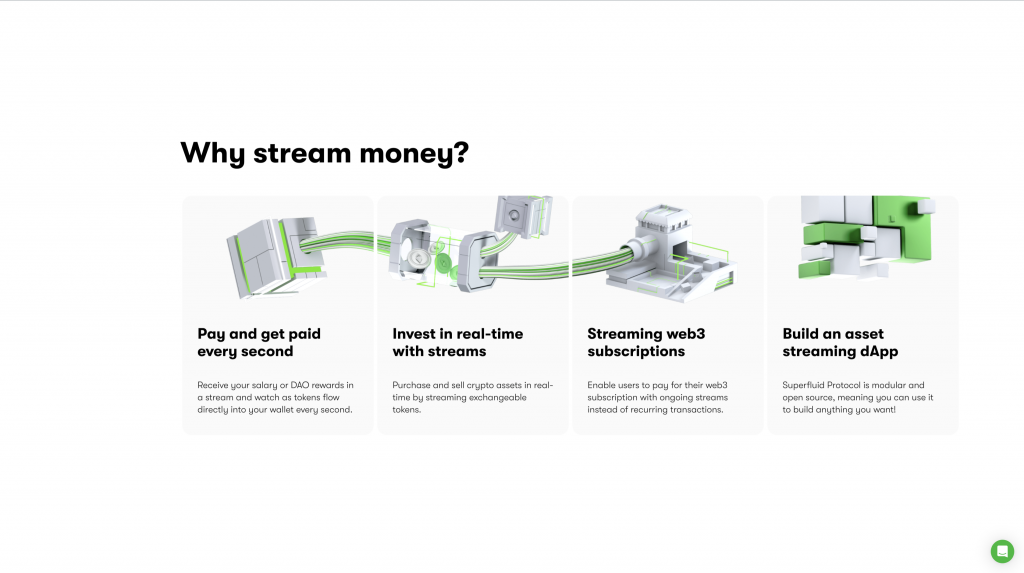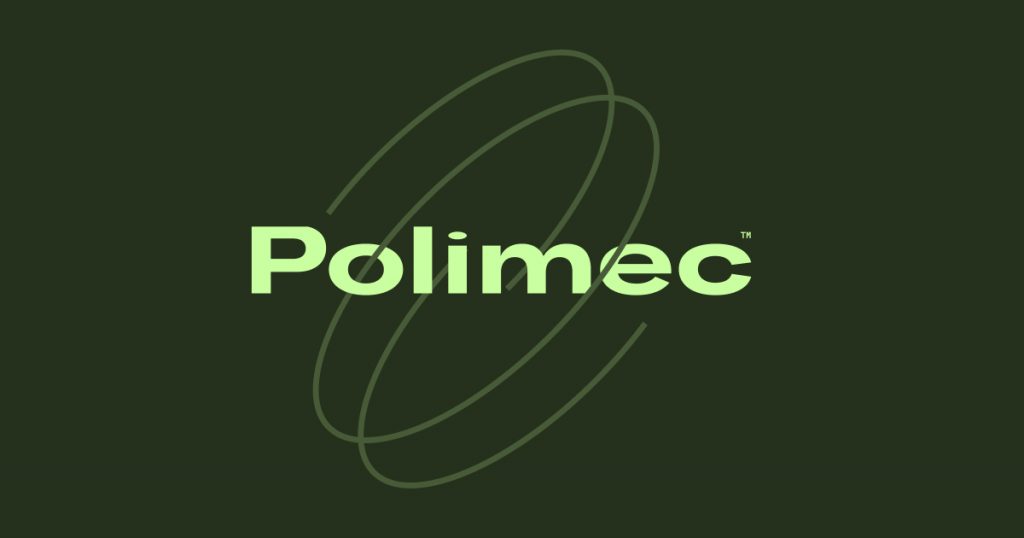 Polimec's website showcases a different approach, as it densely packs a lot of technical information about the project onto one page which acts as the entire website. This makes the whole website flow like a video, but with the user empowered to move through at their own speed.
Through this flowing presentation format, Polimec provides a detailed breakdown of exactly what their project does, and how it does it. There is a lot of information here, but it is presented in clearly cut sections with graphics and animations to bring the site to life. The top banner serves as bookmarks for one endless page rather than links to separate pages which makes navigation of the overall site much smoother.
Polimec expertly wields colour throughout its website that matches the company branding, making the site feel cohesive with Polimec's identity. The site's different sections are accompanied with their own signature layout and colour scheme, but none of them could ever be mistaken to be from another website.
The major downside of this approach is its inaccessibility to newcomers due to the large amount of technical jargon, but the illustrations certainly help. This potentially matters less for a project like Polimec anyway, as they provide community-driven funding to blockchain projects, meaning that developers and crypto investors are Polimec's primary audience.
Sorare is an NFT collectible trading platform specialising in sport-themed digital cards. Sports trading cards have been popular long before the advent of NFTs, and Sorare have merely converted this already successful medium into the web3 space.
Sorare benefits from being backed by huge players in some behemoth industries such as football and basketball. Their website highlights this backing prominently on the main page through it's use of video in the background, really bringing the site to life with its fluidity of movement and varied imagery.
The website has a clean and well-organised navigation structure, making it easy for users to find the information they need. The website is designed responsively, meaning it adapts well to different screen sizes and devices. This ensures that users can access and navigate the platform effectively regardless of whether they are using a desktop computer, tablet, or mobile device.
Sorare provides a straightforward onboarding process for new users. The benefits of creating an account is nicely presented, and account creation flow itself is clear and concise, guiding users through the necessary steps to get started with the platform. One of our favourite things about this site is it's use of moving elements, such as the current player count tracker further down the page. These elements really bring your website into the world of web3, offering a new level of interactivity previously unseen in the web2 era.
They also feature recent competition results below that encourages users to see the real-world benefits they could receive from participating, encouraging increased engagement.
Sorare has the benefit of scale thanks to their ties to huge established brands, but there is a lot that can be learned in terms of UI/UX from their excellent website.
GamiFi's website is fantastic in its usage of animation to really engage the audience and bring the site to life as you scroll. The website utilises colour to stand out against its dark background, high-quality graphics, and visually appealing animations that instantly capture the user's attention. This helps create an immersive and engaging experience, which is crucial for a gaming platform.
The website follows a simple and intuitive navigation structure. The main menu is prominently displayed and provides clear options for users to explore different sections of the website. The use of concise and descriptive labels makes it easy for users to understand the purpose of each section. The site is also responsive to multiple screens and sizes.
The website strategically places CTAs throughout the pages, guiding users towards important actions such as signing up, joining communities, or exploring specific features. The CTAs are visually distinct and provide clear instructions, encouraging user engagement.
Most importantly for a web3 gaming project, the website is fun! The 3D graphics that follow you through the website are a fun way to visualise the concept of the product, and they make you want to scroll through just to see the entire animation. Importantly for a project that seeks to engage players in gaming content, the GamiFi site places the gaming aspect at the forefront, before any mention of blockchain.
This should be considered when designing the website for your web3 project. Are you trying to attract pre-existing web3 users, or a wider range of users interested in typically web2 industries. Placing the core elements of gaming, shopping or music before its application to the blockchain can be a great way to ease users into the web3 way of thinking.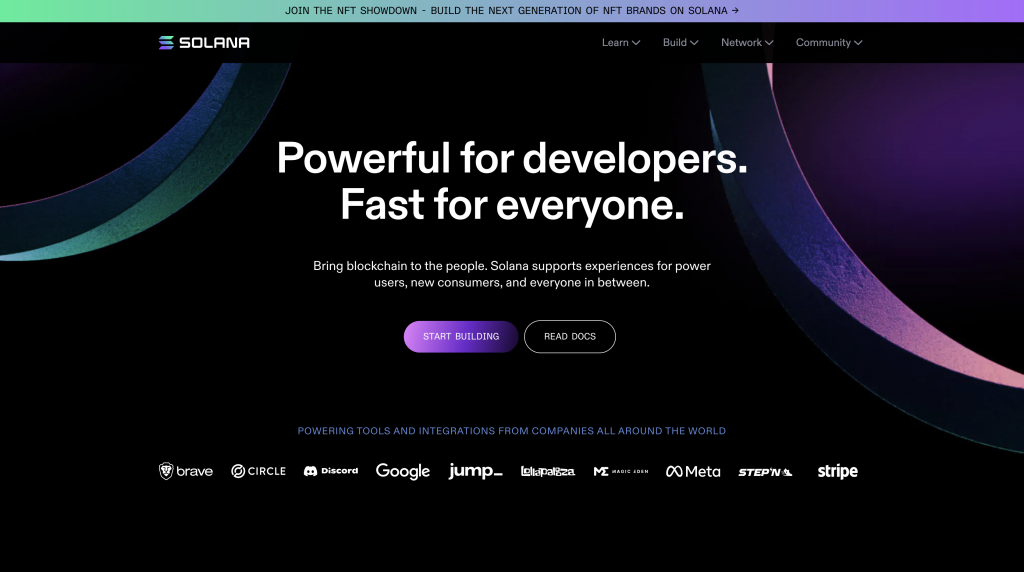 Solana's homepage grabs attention with its bold mission statement, subtly animated buttons and a live ticker of the project's metrics. It's a polished intro that conveys the innovative nature of Solana's tech and the company's expertise. It is also impressive to note that they manage to capture the vastness of their project in such a concise overview.
Site-wide, a variety of clear typography, page transitions and hover effects engage the user and give the website a sleek, professional feel. Check out the site on mobile, and you'll find the animations perform smoothly and make scrolling a pleasant experience.
Solana's website design also uses colour boldly; icons and graphics run the full spectrum of the website's palette. Call To Action (CTA) buttons vary in colour and are clearly displayed, meaning the user is never confused about what to do. These creative touches are balanced by a consistent typeface, familiar navigation and simple page layout. The overall feel of the website is confident and slick, ideal for a brand that creates blockchain tech boasting the quickest speeds in the industry.
If we could say anything to push the site even further, it would be to chop up some of the more text-heavy parts into their own separate pages or articles. This not only improves the user experience, but also aids with search-engine optimisation.
Our verdict
To create a successful web3 design, it is essential to balance aesthetics and functionality while ensuring that the website is user-friendly and accessible to all levels of expertise. Incorporating animation, 3D elements, storytelling, and gamification can make the website more engaging and compelling for users. Trust, community, and clarity should be at the core of the design ethos to build a strong community of real people with faith in your product. 
We hope that you've learnt a thing or two about website design in the web3 space. There is a lot to learn, and it's unlikely that your first website will be perfect. The most important thing is to take stock of what really matters to your project.
Ultimately, good web3 design aims to educate, engage, and empower users, leading to a greater user experience and encouraging them to use your product. By following these principles and taking inspiration from successful web3 designs, web designers can create a web experience that stands out in the world of web3.